Date added: 16 May 2008
£1 for a Mercedes?
Prospect Hospice join forces with Mercedes-Benz of Swindon for their 2008 car raffle
Would you turn down the opportunity to own a Mercedes-Benz SLK-Class OR Mercedes-Benz C-Class all for the price of £1?

Well that will be the choice of one lucky winner later on this year thanks to a new partnership between Mercedes-Benz of Swindon and Swindon charity The Prospect Hospice.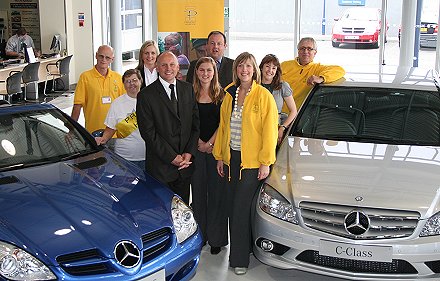 Dealer principal Mike Sands (front left) together with
Prospect Hospice Fundraising Manager
Rebecca Jordan (front right) and staff
celebrate the

launch of their new fundraising raffle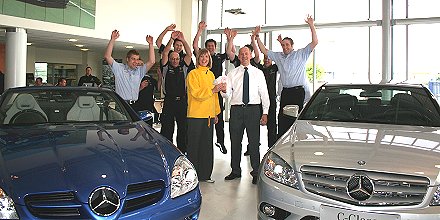 Mercedes-Benz of Swindon after-sales manager
David Churchill (front right) plus the workshop team
hand over a cheque to Rebecca Jordan after raising
£400 in a charity football match

"It's a wonderful prize and it's great thanks to Mercedes-Benz of Swindon for offering it to us," said Prospect's fundraising manager Rebecca Jordan.

"We hope that the appeal of the prize will ensure that people will support the raffle until the ticket is drawn on 19th December."
"It's going to make Christmas very special for someone!"
All those entering the raffle will also qualify for a half price MOT at the Mercedes-Benz dealership, which is situated in Drakes Way.

"The whole team at Swindon had input to choosing Prospect Hospice as their main charity to support for 2008," commented Mike Sands Dealer Principal of Mercedes-Benz of Swindon.

"We firmly believe that we have a corporate responsibility to work closely with our local community and make a difference where we can."
Need for speed?
Ladies take the wheel for Prospect's fastest fundraiser...

24 July 2009