Date added: 20 May 2008
Library opening takes a step closer
£10 million building all set to opens its doors this October
Swindon's brand new Central Library is all set to open its doors on 20 October 2008.
That was the assurance made by leader of the Council, Rod Bluh, during a special insight into the construction of the £10 million building last night.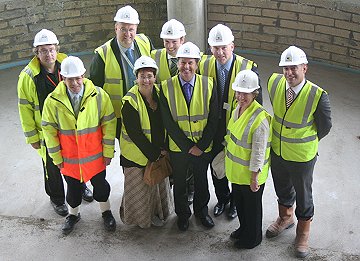 Council members and developers look forward
to the opening of the new Central Library

"This major project is on time and on budget, and we're absolutely confident that we'll meet the opening date on the 20th of October," commented Mr Bluh.
"I think when people finally get chance to experience the building for themselves they'll be very impressed with what we've created.

"It sets the standard we are aiming to achieve for the whole town and the regeneration of Swindon over the next few years."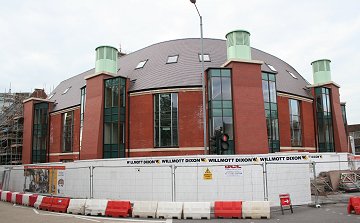 The new award-winning
Central Library nears completion
The structure of the Regent Circus building is now almost complete, leaving the remaining five months for decorating, fitting out of the interior, and paving work around the outside.

The library, which has been designed in-house by the council's architecture team, won a prestigious national environmental award from the Building Research Establishment last year.

Among its green features are solar-powered water heating, natural ventilation, and the use of rainwater for flushing toilets and watering plants.

The Central Library moved to its current temporary location in the Paramount Building on the corner of Princes Street and Beckhampton Street in June 2006.
Let it flow
New Canal Walk fountain is switched on for the first time...

19 May 2010

44 year wait
Long-time book lover can't wait for new library...

02 October 2008