Date added: 30 May 2008
Honda reaches for the sky
Revolutionary new ad played LIVE on TV last night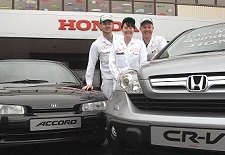 the first ever Honda car built in
Swindon (l) was the Honda Accord
Car manufacturer Honda took TV marketing to a whole new level last night - with a live advert played on Channel 4.
The advert was created to promote the new Honda Accord - which incidentally was the first Honda car produced in Swindon, more than 16 years ago.

The strict 3-minute live broadcast - inspired by the company's "Difficult is worth doing" slogan - saw a team of elite skydivers attempt to form the letters H, O, N, D and A in sequence.
And amazingly, they did it!
Watch the following YouTube clip to see just how it happened...
You've got to see it to believe it...
Honda Fire
Production resumes after weekend blaze...

25 January 2016

I Predict A R-iot
Kaiser Chiefs frontman Ricky Wilson in Swindon to collect new Honda Civic Type-R - SEE PICTURES

20 August 2015

Honda Task Force
We speak to project leader Jill Annal ahead of the job fair organised for redundant workers...

19 May 2014

Honda Take Stock
340 production workers at Swindon plant face job threat after shift change...

25 March 2014

Honda To Cut 800 Jobs
Downturn in EU sales blamed for shock news today - but is it because the new Civic is (hate to say it) plain 'ugly'? - COMMENT

11 January 2013

Honda Launches CR-V
Big boost for Swindon as Business Secretary praises car plant investment...

07 September 2012

Recovery Starts Here?
New Honda Civic rolls off the production line as 500 new jobs announced...

19 December 2011