Date added: 04 April 2008
Apprenticeship programme really works
MP shows his support for education in Swindon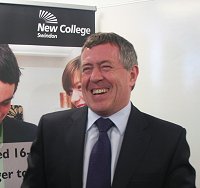 approval for our education
Apprenticeships could become the new way in to the world of work for young people in Swindon - and yesterday saw the arrival of MP John Denham to show his support.
Joined by local Labour MP Anne Snelgrove, the Secretary of State for the Department of Innovation, Universities and Skills visited New College to meet staff and students involved in the programme.
He was impressed with the dedication of everyone involved, and particularly the progress of apprenticeships here over the past 12 months.
He told us: "Everyone I have spoken to has proved that apprenticeships really can be another option for young people.
"They get the opportunity to learn on the job - some as young as 14 - and will take invaluable skills in to their future careers."
"There is a preconception that apprenticeships are for people who aren't as academically gifted, but with all kinds of business courses on offer, that isn't the case."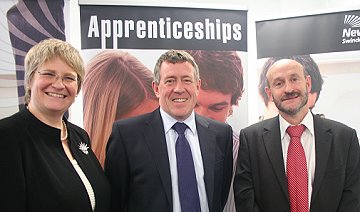 (l-r) local MP Anne Snelgrove, with John Denham
and New College principal Graham Taylor
And with more and more students from surrounding schools and colleges signing up to the strategy, Mr Denham is confident Swindon could offer a new direction for education.
"The national aim is to eventually have 1 in 5 young people taking up apprenticeships, which will be incredibly difficult, but here in Swindon they seem to be working really hard towards that."
New College Principal, Graham Taylor, said: "We're really pleased with the uptake so far, but like John said, it's essential that we get the support of local businesses for this to really work."
A levels results
Agony and ecstasy as Swindon students get their grades...

20 August 2009

Results are in!
Tears and cheers for A-level students at New College - see pictures!...

14 August 2008

Top marks!
New College receives national praise...

11 January 2008