Date added: 04 April 2008
On the defence
Solicitor firm swaps the court room for the rugby pitch
Local solicitor firm Thring Townsend Lee & Pembertons, will be taking on a new challenge this summer, as they prepare to take part in the second Festival of Sport in Swindon.
A team of 10 hope to put up a strong defence when they enter the tag rugby tournament being held over the Challenge Swindon weekend on 31 May and 1 June.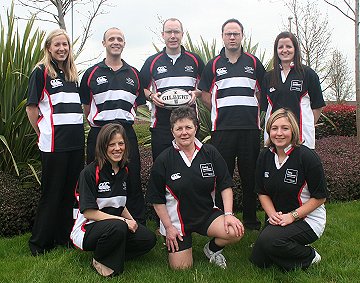 staff from Thring Townsend Lee & Pembertons
(back row l-r) Louise Clapperton, Daniel Karmy,
Michael Tatters, Alex Pinhey, Emma Kingsland
(front row l-r) Anna Wistow, Louise Field, Victoria Lara
Legal secretary Emma Kingsland, who organised the team, said: "I took part in the Festival of Sport last year and had a great time.
"It's a great way to build a sense of team spirit among colleagues - we've got chefs, secretaries and solicitors all on the team.
"We'll be having a few practice sessions and are really looking forward to the event."
The two-day Festival is part-funded by Sport England as part of Challenge Swindon, and includes sports such as beach volleyball, dragon boat racing, angling, badminton, squash, hockey, netball, tennis, and many more.
If you'd like to take part (individually or as part of a team), please call 01793 511033 or text the word ACTIVE to 80010.

Challenge Swindon - website