Date added: 08 April 2008
University Challenge
Could Swindon's university plans be back on track?
Swindon could soon have a new university campus, if plans by the University of the West of England (UWE) find local support.
The University of Bath's controversial decision to pull out of the town earlier this year means that we'll be left without a university from July.
But a solution may have arrived in the form of UWE - with Deputy Vice-Chancellor John Rushforth currently in discussions with local businesses and authorities to determine whether there could be a place for them here.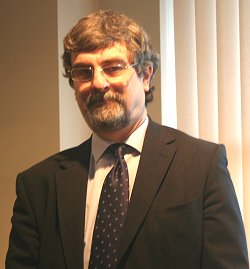 John Rushforth is confident
he can
find local support for
Speaking at a conference earlier this month, John Rushforth told us: "Swindon looks like a really attractive place to us. Because of the tremendous amount of employers here, it fits very closely with the mission we want to do.
"It could really work because employers are signalling that they're really keen and want to be involved, as well as the demand of a lot of young people who would want to go to university if there was one here."
Based in Bristol, UWE is the largest provider of higher education in the south west of England, and currently has more than 30,000 students and staff.
UWE is currently providing training for undergraduate nurses at the Faculty of Health and Social Care, based at Swindon's Great Western hospital.
Home sweet home?
It's good news and bad news for the Museum of Computing...

28 May 2008