Date added: 28 April 2008
Arval set to make a racket
Arval tennis champions return for Festival of Sport 2008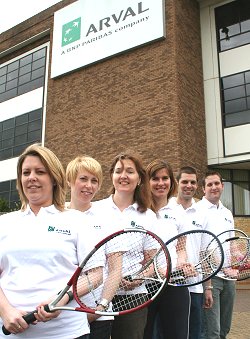 (f-b) Karen Potter, Alison Golden,
Elaine Mowbray, Julie White,
Mark Chandler, Chris Gough
As companies across the town prepare for this year's Challenge Swindon weekend, one firm are particularly keen to don their trainers and get going.
Car fleet giant Arval, based in Windmill Hill Business Park, have a couple of tricks up their sleeve which could see them walk away with another trophy in the tennis competition.
Head of Finance Elaine Mowbray and Customer Services Manager Mark Chandler took gold during last year's Festival of Sport.
44-year-old Elaine said: "I think our success was down to luck and tenacity.

"The day was absolutely fantastic - fun and a great way to get fit. It was also a good way to really get to know colleagues.
"I would highly recommend taking part."
The two-day Festival is part-funded by Sport England as part of Challenge Swindon, and includes sports such as beach volleyball, dragon boat racing, angling, badminton, squash, hockey, netball, tennis, and many more.

If you'd like to take part (individually or as part of a team), please call 01793 511033 or text the word ACTIVE to 80010.
Flying high!
Arval employee to represent UK at World Air Games...

21 August 2008

On the defence
Solicitor firm swaps the court room for the rugby pitch...

04 April 2008