Date added: 23 March 2008
Swindon company helps build Heathrow
Edmont play major part in new Terminal 5
The new terminal 5 at Heathrow opened today - and one Swindon company has played a huge part.
Local construction specialists Edmont was responsible for a number of key shopfitting projects in what is the biggest freestanding structure in the UK.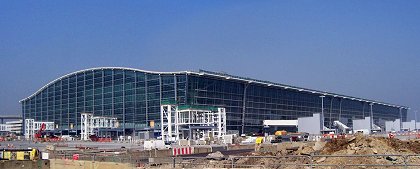 the new Heathrow Terminal 5, which local company
Edmont played its part in constructing
With years of experience working alongside BAA and World Duty Free, Edmont were brought in as one of a few UK companies with the systems in place to undertake such a project.
The scheme was managed from Swindon with a small office site at Heathrow - and had a contract value in excess of £5 million.
And the company's Joinery Director, Robbie Nottage, was overwhelmed when their work was admired by the Queen, at an official opening ceremony on 14 March.
He said: "I was thrilled to be invited; it was a great day at the end of a brilliant job for Edmont."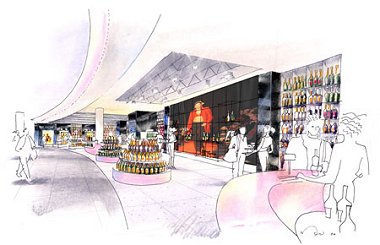 Bringing designs to life:
original illustrations of the World Duty Free
shopping area in Terminal 5
Edmont's Managing Director, Peter Jenkinson, said: "We take great pride in this continuing relationship with our airport clients whom we have fostered for over 15 years.
"This is only one of the areas in which Edmont operate and it compliments our work for major high street names, local companies, organisations and private individuals."
Edmont's contribution to Terminal 5 is another milestone in a busy year that also included major work at St. Pancras station in London.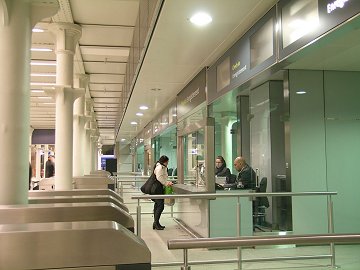 Manufactured and installed
by Edmont Swindon:
the new check-in desks at St. Pancras station
The brand new state-of-the-art EuroStar Terminal also including a key role for the Swindon company, who manufactured and installed the EuroStar check-in desks, along with anti-blast fire doors between the main station and the underground.
Continuing the transport theme, Edmont's are currently involved in a large project at the new terminal extension at Stanstead Airport.
More information on Edmont is available on their website, designed by SwindonWeb.

Edmont Swindon - more info.
On me 'Ed', son!
Swindon construction company build new Futsal arena...

29 January 2009

Sold for just 79p
But the value of Zarlink to Swindon is far greater than that...

05 March 2008