Date added: 02 January 2008
Legendary Kiwi comes to Swindon
Brigadier Mortlock OBE shows his support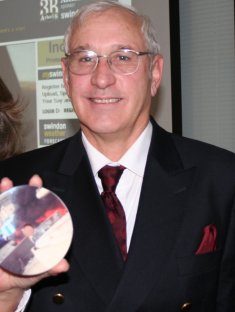 Brigadier Roger Mortlock was
moved
by Will Watson's passion
A fascinating documentary, 'War With No Guns' was brought to Swindon by New Zealand film producer Will Watson, and this week saw the arrival of the military mastermind behind the story.

Brigadier Roger Mortlock OBE was responsible for leading the peace campaign which ended a 10 year civil war on the island of Bouganville, using the unusual tool of guitars instead of guns.

SwindonWeb has been following Will's story as he tries to raise the £200,000 needed to complete the feature documentary, a trailer of which is to be produced by Swindon's ODS Business Services and distributed in the trade magazine Marketing Week, in a few weeks' time.

Brigadier Mortlock and his wife Sue are currently on their travels around Europe, taking the opportunity to drop in to ODS to watch the trailer, in what was an emotional reminder of his efforts back in the 1990s.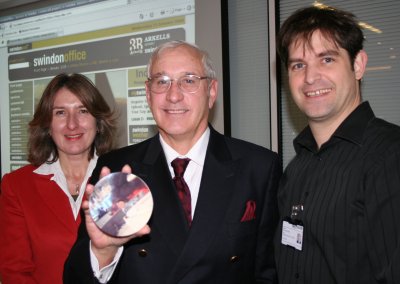 Around the world on one disc:
New Zealander Brigadier Roger Mortlock
with Rhona Jack of Swindon's Blue Click PR
and Franky Marulanda of ODS Business Services
He said: "So many people have approached me over the years, but there was something about Will and his passion for the true story which grabbed my attention. I couldn't say no!"

On his reaction to the trailer, he said: Suffice to say, I thought it extremely good. For me - and I view myself as a fairly hard-bitten "old soldier" - it was just a little bit emotional. Nicely so!"
It's a small world after all...
It's a true sign of the times when a New Zealand businessman travels across the world to Swindon to complete a deal, and one Kiwi has done just that.

Documentary director, Will Watson, met Rhona Jack from Swindon-based Blue Click PR on a professional networking site, starting off a chain which will hopefully see Will's documentary, 'War Without Guns', produced and distributed across the world.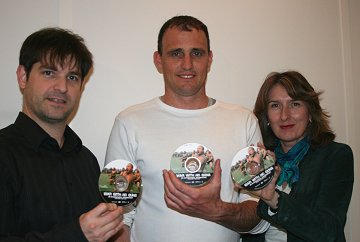 Swindon's worldwide success:
Film producer, Will Watson (centre) with Swindon's
Franky Marulanda and Rhona Jack, who are hoping
to produce Will's documentary

Having heard about the film, which documents the unusual end to a 10-year civil war on the island of Bougainville, Rhona put Will in contact with her client ODS Business Services – a DVD and CD producer/distributor whose headquarters are at the old Renault building in West Swindon.

Through email communication, ODS' Commercial Director, Franky Marulanda, has agreed to produce 37,000 copies of a five-minute trailer, which will be included with Marketing Week in January 2008.

It is hoped that the projection to thousands of industry experts will help find the remaining £200,000 of funding which is needed to complete the 80-minute documentary.

And despite the fact that the film will be produced on eco-disc at the German ODS site (the only one in the world which can produce this type of disc), there is no doubt that the Swindon link has been fundamental in this chain.

Watch out in early January for the latest on this story...