Date added: 01 January 2008
Happy new year, Mayor!
Arval raises over £6,000 for Mayor's nominated charities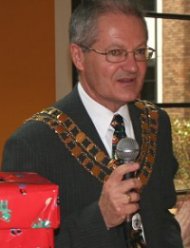 Cllr. Barnes thanks
Arval for
2008 is only just upon us, but it has already been an exciting time for Swindon's Mayor, with a generous donation received for his four nominated charities.
Car-fleet giant, Arval, whose staff at the Windmill Hill Business Park raised a total of £6,355 in their Christmas raffle, have kindly donated all proceeds to the Mayor's local causes.
Amongst a fantastic array of goodies on offer, there were two of the sought-after Nintendo Wii consoles, a number of iPod Nanos and plenty of wine!
Cllr. Michael Barnes, who will hang up his chains in May of this year, has a few months to put the money to good use.
The four nominated charities which will benefit from the money, are: TWIGS (Therapeutic Work in Gardening in Swindon), Swindon Samaritans, Swindon Therapy Centre for Multiple Sclerosis, and Broadgreen Breakfast Club.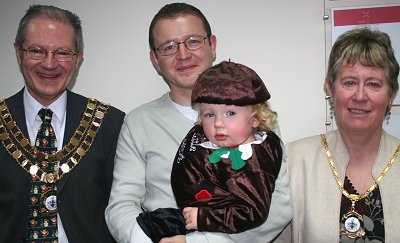 Arval Company Secretary Julian Brand and daughter Cara,
with the Mayor and Mayoress
Cllr. Barnes told us: "I'm completely overwhelmed, and honoured that Arval have chosen to donate all the proceeds of their Christmas raffle to my four charities."
"It's fantastic to see a company of this size really working to help the local community, and it's great because the staff will be able to see the difference the money can make."
Flying high!
Arval employee to represent UK at World Air Games...

21 August 2008