Date added: 29 January 2008
Jamie's million-pound vision
We meet the mastermind behind Glasses Direct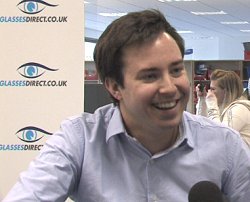 Doing very Well for himself:
Glasses Direct entrepreneur, James
Murray Wells, tells SwindonWeb
about his amazing achievements
Here at SwindonWeb we love to hear about a good internet success story, but we could never have imagined that the entrepreneurial mastermind behind a multi-million pound business could be a 24-year-old from Swindon.

The revolutionary idea of Glasses Direct came to James Murray Wells when, faced with his final exams of an English degree in Bristol, he was shocked at the price of a new pair of glasses.

The prospect of paying out £150 for a pair of specs was not a great one, particularly for a student, so Jamie made it his intention to find out just how much they actually cost.

After realising that an average pair actually costs about £5 to make, he felt compelled to start up his own company, which began by selling glasses directly to customers through internet orders.

And what began with a few sales per day has now progressed to about three sales per minute.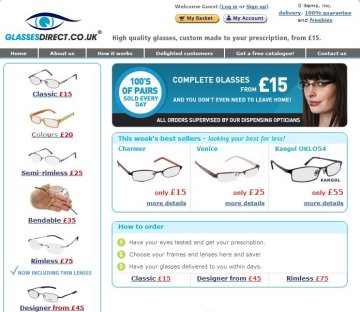 Glasses Direct is predicted to have saved people
from the UK over £4 million on eyewear costs

Having met Jamie, the prodigy behind it all, we soon realise that his modest approach to his company's explosive success is part of the reason behind it.

As he gives us a guided tour of his new offices and distribution centre on the Groundwell Industrial Estate, we soon see how passionate he is.

He told us: "As soon as I'd proven myself Dad said I should just go for it, so I took the bull by the horns.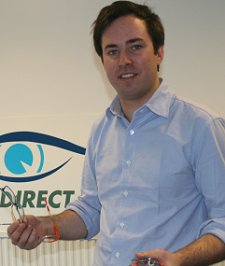 Jamie is an inspiration to
"I started handing out flyers in Bristol, and people very quickly got the idea that buying a pair of prescription glasses for just £15 was a phenomenal bargain."

And the journey from hard-up student to thriving businessman has brought with it a lot of personal achievements for Jamie.

In 2005 he beat the likes of Sir Richard Branson and Sir Alan Sugar, to grab first place in the Startups Entrepreneur of the Year Award, as well as Company of the Year.

But this is just one of many accolades, including: Daily Mail UK Business Entrepreneur of the Year 2005, Brunel UK Young Companies Award of the Year 2006, and Regional HSBC Start-up Stars of the Year 2006 – to name a few.