Date added: 17 September 2002
Spitfire Fly-Over Opens New Business Venture
The unique and nostalgic sound of the Supermarine Spitfire heralded the opening of Berkeley House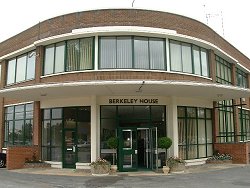 Formerly Vickers' office:
Recognised as the first enterprise in the town to offer adaptable and affordable units for small and new businesses with their first venture, BSS House in Cheney Manor, which opened in 1984 and still going strong, the Slough based group have expanded to now offer additional industrial and warehouse facilities at BSS South Marston and, in a new first, Berkeley House, which will offer serviced office accommodation.
Former home of aircraft production

Situated in north-east Swindon at South Marston Park, both facilities are on the site which was formerly the Vickers building and plant which, most famously, manufactured the Supermarine Spitfire during the war. Opened in 1940, the FS2 building (now Berkeley House) was the location for the design and production of various aircraft, including the world record breaking Swift, right up until the early 60s. The runway used to test and fly the planes to the front-line is now the test-track for the nearby Honda factory.

After the war, the South Marston site continued to be a key engineering base for the company, employing over 3,000 men at its peak (hence the Supermarine Football Club), until its closure in the late '80's.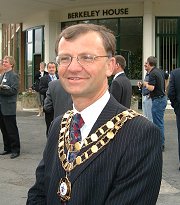 Swindon Mayor, Stan Payak,
The whole event was attended by over fifty members of the Swindon business community, with the building officially opened by Swindon Mayor, Councillor Stan Pajak. The invited guests were then treated to a low level fly-past from an original Supermarine Spitfire.

General Manager, Maureen Harvey, was delighted with the new location and very proud to be associated with such a important part of Swindon's commercial history.

"The old Vickers building has been completely refurbished to produce a creative business environment in sympathy with its heritage," she said.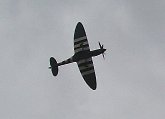 Spitfire:

Built in Swindon
"The continued success of BSS House in Cheney Manor, which still offers an invaluable opportunity for small businesses to start-up and thrive in Swindon, will be hugely complimented by this new investment to offer even more choice for those looking for commercial premises at flexible and affordable terms," she added.

BSS Swindon can be contacted on (01793) 613456, with more details available on their website.

BSS House - website
Catsbrain Farm
Bombs, bikes and bi-planes - memories of Eric Barnes, possibly Swindon's last owner-farmer...

02 October 2010

Planes, Trains & Automobiles
How Swindon helped pioneer some of the most incredible aircraft ever built incl. Spitfires, Swifts & Concorde...