Date added: 01 January 2003
Honda celebrates 10 years of car production in Swindon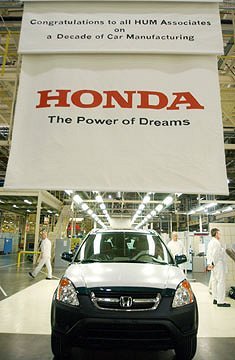 10 years of car production
Honda of the UK Manufacturing Ltd (HUM) are celebrating ten years of car production at their Swindon plant.
From the day the first car rolled off the production line in October, 1992, the South Marston factory has produced nearly one million cars for both the UK market and worldwide export (even Japan), with 2002 being its record year with over 180,000 cars leaving Swindon.
The Head of European Operations, Minora Harada, joined Honda's UK Managing Director, Ken Keir, in thanking the 4,400 strong workforce and to looking forward to even more success at the plant.
"What has been achieved here in Swindon is testament to the hard work and dedication of all those involved with the site," Ken Keir said.
"Honda has invested over £1.15 billion pound over the last fifteen years in building this operation, and we all look forward to building on this investment in years to come." he added.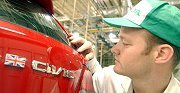 Honda first started in Swindon through their partnership with Rover in the early 1980's and after securing their existing site from Vickers Supermarine in 1985, the first factory was built and soon commenced production of engines for the Honda Accord range. Full scale car output commenced in 1992, with the 500,000th car produced in 1999. In the last ten years, the plant has built a number of models including the Accord, Civic and CR-V.
September 2001 saw the opening of the second factory on the site, celebrated by the visit of Honda's Formula One teams, BAR and Jordan (see link below). Production at the site is set to hit 250,000 cars by the end of 2003.
Last Hurrah for Civic Type-R
This week saw the last of Honda's legendary and hugely successful Civic Type R's coming off the Swindon production line...

28 September 2005