Date added: 01 January 2003
Swindon exports new CR-V to the USA
Honda exports to America:

Swindon are exporting CR-V's to

Swindon is once again playing a big part in the UK economy thanks to the Honda factory exporting the first batch of its new CR-V four-wheel drive to the United States.
Manufactured in the newly extended factory, the new CRV replaces the million selling previous model and it is planned that over 60,000 will be exported to the USA this year alone.
President of Honda Motor Europe, Minoru Harada, spoke proudly of the Swindon involvement in Honda's new model.
" We are extremely proud of what our 4,000 workers in Swindon have achieved so far in meeting European customer requirements." he said.
"
They now have the challenge of meeting the demands of the North American market, and I am confident our CR-V customers will be more than satisfied.
" he added.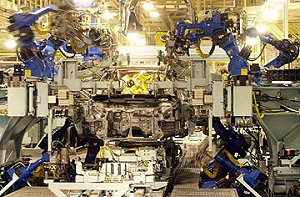 Over 60,000 CR-V's to be
exported to USA
This is the third phase of Honda's UK export drive after the first Civic 3 door exports to the US, Canada, and the first exports to Japan in December (see link below).
With production at the Swindon plant now over 60% higher than this time year, the Swindon workers at the factory are also proud to be an increasing part of the Honda's overall global strategy. " To see our work exported to America and Japan really puts Swindon on the map." said one worker.
Honda Fire
Production resumes after weekend blaze...

25 January 2016

I Predict A R-iot
Kaiser Chiefs frontman Ricky Wilson in Swindon to collect new Honda Civic Type-R - SEE PICTURES

20 August 2015

Honda Task Force
We speak to project leader Jill Annal ahead of the job fair organised for redundant workers...

19 May 2014

Honda Take Stock
340 production workers at Swindon plant face job threat after shift change...

25 March 2014

Honda To Cut 800 Jobs
Downturn in EU sales blamed for shock news today - but is it because the new Civic is (hate to say it) plain 'ugly'? - COMMENT

11 January 2013

Honda Launches CR-V
Big boost for Swindon as Business Secretary praises car plant investment...

07 September 2012

Recovery Starts Here?
New Honda Civic rolls off the production line as 500 new jobs announced...

19 December 2011

Last Hurrah for Civic Type-R
This week saw the last of Honda's legendary and hugely successful Civic Type R's coming off the Swindon production line...

28 September 2005