Date added: 01 November 2003
British built Hondas poised for the first exports to Japan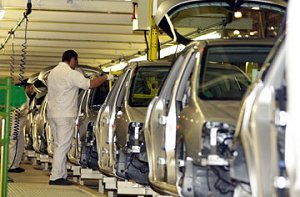 On the production line:

Honda start to export the new Civic model

October has been a big month for putting Swindon on the worldwide map, as Honda gears up production from its newly expanded car plant by starting to export its new Civic model, and unveiling the latest version of its award-winning CR-V at the Tokyo Motor Show.

The first shipment of British built Honda Civics destined for Japan, set sail from Southampton on the 2nd October just three weeks after the company's second UK car plant opened in the town.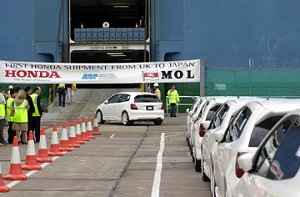 The first Honda shipment to Japan
A total of 150 of the high performance Civic Type Rs left for Japanese showrooms, the first of 5,000 destined for Honda's home market in the next 12 months.
The second phase of Honda's UK export drive starts in December with the first Civic 3 door exports to the US and Canada followed by shipments of the new CR-V four wheel drive model in spring 2002.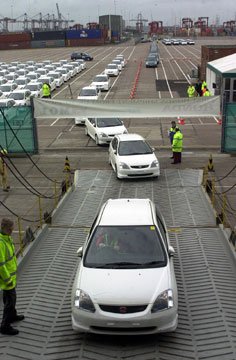 Civics on the way to Japan
Once Honda's export drive is in full swing, the 4,000 employees at Swindon will be responsible for producing a total of 200,00 vehicles, worth £2 billion for markets around the world, taking 80% of Swindon's total capacity of 250,000 cars.
Commenting on the first exports to Japan, Ken Keir, Managing Director of Honda UK said, "This export strategy represents Honda's response to the rapidly changing business environment in Europe. Three key factors had to be achieved to meet the requirements for Japan - quality, price and production flexibility. Swindon has met all of these and can confidently take its place as part of Honda's global supply network.
"The new plant is a world class car manufacturing facility and Swindon has now become a key element in the company's Global Supply Network. The twin plants - with a combined capacity of 250,000 units per annum - will together account for 8% of Honda's global need" Mr Keir added.
Honda Fire
Production resumes after weekend blaze...

25 January 2016

I Predict A R-iot
Kaiser Chiefs frontman Ricky Wilson in Swindon to collect new Honda Civic Type-R - SEE PICTURES

20 August 2015

Honda Task Force
We speak to project leader Jill Annal ahead of the job fair organised for redundant workers...

19 May 2014

Honda Take Stock
340 production workers at Swindon plant face job threat after shift change...

25 March 2014

Honda To Cut 800 Jobs
Downturn in EU sales blamed for shock news today - but is it because the new Civic is (hate to say it) plain 'ugly'? - COMMENT

11 January 2013

Honda Launches CR-V
Big boost for Swindon as Business Secretary praises car plant investment...

07 September 2012

Recovery Starts Here?
New Honda Civic rolls off the production line as 500 new jobs announced...

19 December 2011