Date added: 01 April 2003
One millionth Honda rolls off the Swindon production line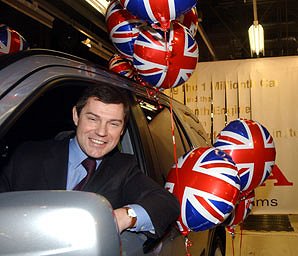 One million and still counting:
DTI minister, Nigel Griffith, drives the
The Honda plant in Swindon celebrated another manufacturing milestone on the 6th March 2003 when the one millionth vehicle and the one-and-half millionth engine produced at the facility rolled off the production line.
Department of Industry minister, Nigel Griffith, and President of Honda Motor Europe, Minoru Harada, were present to celebrate the occasion in front of an assembled group of Honda workers and management, with the minister having the honour of being the first to drive the landmark CR-V.
Speaking at the ceremony, Nigel Griffith said: "What Honda have achieved in Swindon since arriving here in 1985, is one of the countries major technological success stories.
"I congratulate Mr Harada and the whole team here at Honda for their achievements," he added.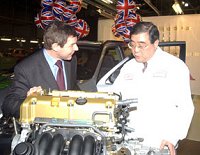 Nigel Griffiths with Honda
Honda first started in Swindon through their partnership with Rover in the early 1980's and after securing their existing site from Vickers Supermarine in 1985, the first factory was built and soon commenced production of engines for the Honda Accord range. Full scale car output commenced in 1992, with the 500,000th car produced in 1999. In the last ten years, the plant has built a number of models including the Accord, Civic and CR-V.
September 2001 saw the opening of the second factory on the site, celebrated by the visit of Honda's Formula One teams, BAR and Jordan (see link below). Production at the site is set to hit 250,000 cars by the end of 2003.
Honda Fire
Production resumes after weekend blaze...

25 January 2016

I Predict A R-iot
Kaiser Chiefs frontman Ricky Wilson in Swindon to collect new Honda Civic Type-R - SEE PICTURES

20 August 2015

Honda Task Force
We speak to project leader Jill Annal ahead of the job fair organised for redundant workers...

19 May 2014

Honda Take Stock
340 production workers at Swindon plant face job threat after shift change...

25 March 2014

Honda To Cut 800 Jobs
Downturn in EU sales blamed for shock news today - but is it because the new Civic is (hate to say it) plain 'ugly'? - COMMENT

11 January 2013

Honda Launches CR-V
Big boost for Swindon as Business Secretary praises car plant investment...

07 September 2012

Recovery Starts Here?
New Honda Civic rolls off the production line as 500 new jobs announced...

19 December 2011

Last Hurrah for Civic Type-R
This week saw the last of Honda's legendary and hugely successful Civic Type R's coming off the Swindon production line...

28 September 2005