Date added: 07 August 2003
Swindon-built Hondas top reliability survey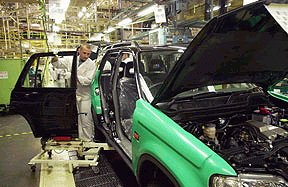 Swindon-built Accord achieves
The Honda factory in Swindon is celebrating the news that the car manufacturer is among just seven car brands to be rated "Best" in Which?* magazine's annual car reliability survey, published on 7th August 2003.
Furthermore, both the Swindon-built Honda Accord and Japanese built Jazz models achieved a 100% breakdown free record, a feat achieved by just five other car models.
Other models manufactured at the South Marston plant also performed exceptionally well in the survey, with the current Civic and CR-V models both achieving 99% reliability, and the previous model CR-V achieving 98%.
The survey looked at breakdowns (or failures to start) experienced over a 12 month period by owners of cars up to two years old. Some 33,000 Which? members took part in the survey, including 1707 owners of Honda cars less than two years old.
Overall Which? found that around one in 20 new cars were likely to have broken down during the last year, with the worst performing model having a breakdown rate of one in four. Asian brands predominantly occupied the "Best" category (Smart was the sole European representative), while the "Poor" category was dominated by French, German, Italian , British and Swedish marques.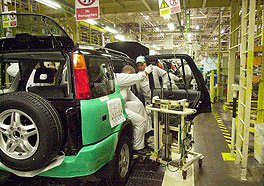 Honda's feat represents a continued improvement over the previous year's result. In 2002 all of the Honda models featured in the "winners" area of the survey exceeding the industry average 94% reliability score. The Honda HR-V was among just 7 cars to achieve a 100% breakdown free reliability. Other scores were Civic (new) - 99%, CR-V (old) - 98%, Accord (new) - 97% and Civic (mid) - 97%.
Which? Magazine's new car reliability survey, which details the full results on 138 different car models is to be published in October's Which Car? 2003/04 issue.
Honda Fire
Production resumes after weekend blaze...

25 January 2016

I Predict A R-iot
Kaiser Chiefs frontman Ricky Wilson in Swindon to collect new Honda Civic Type-R - SEE PICTURES

20 August 2015

Honda Task Force
We speak to project leader Jill Annal ahead of the job fair organised for redundant workers...

19 May 2014

Honda Take Stock
340 production workers at Swindon plant face job threat after shift change...

25 March 2014

Honda To Cut 800 Jobs
Downturn in EU sales blamed for shock news today - but is it because the new Civic is (hate to say it) plain 'ugly'? - COMMENT

11 January 2013

Honda Launches CR-V
Big boost for Swindon as Business Secretary praises car plant investment...

07 September 2012

Recovery Starts Here?
New Honda Civic rolls off the production line as 500 new jobs announced...

19 December 2011

Last Hurrah for Civic Type-R
This week saw the last of Honda's legendary and hugely successful Civic Type R's coming off the Swindon production line...

28 September 2005