Date added: 23 January 2009
The mystery of crop circles - and the economy
Talks start busy 2009 for the Highworth Business Group
A well-attended talk on two intriguing subjects kicked-off 2009 for the newly-formed Highworth Business Group [HBG] this week.
Crop Circle expert and entrepreneur Tim Carson was the guest speaker, in an event sponsored by local asset management company Butler Toll, who also provided an introduction by explaining in detail the background to the current economic situation.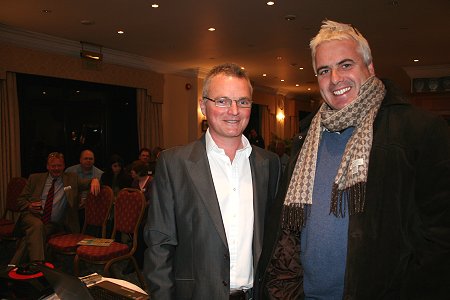 Highworth Business Group chairman Steve Silk (l)
with guest speaker Tim Carson
"You could say no one knows where crop circles come from - or where the economy is going!" joked Butler Toll partner Richard Butler, "so it's made for an interesting night."
"I'm delighted so many people are supporting the group," said HBG chairman Steve Silk, who arranged the evening held at Wrag Barn Golf Club.
"We have many more events planned throughout the year."
More details on the Highworth Business Group, who aim to work as an independent cohesive body to help promote Highworth for the benefit of the local businesspeople and the community, are available via their new website, link below.