Date added: 22 July 2009
Core! Charitable Community Cider
Highworth make use of unwanted apples

The historic Wiltshire market town of Highworth has launched an initiative to produce apple juice and cider, using apples donated by the townsfolk.


The idea was thought up about after seeing the amount of local apples that would fall to the ground and be left to rot. And the team behind the idea are now 'pressing' on to produce the first batch ready for tasting.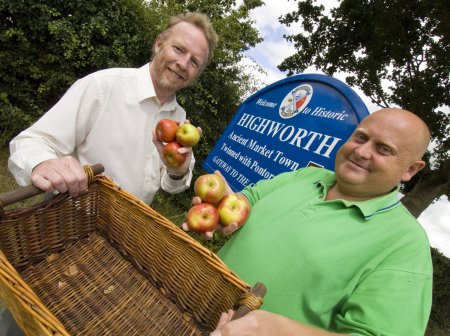 Denis Thurley of the Highworth Business Group and Shaun Vockins, soon to become the landlord of The Fox in Highworth
"We've already got a group of volunteers to help with the planning," commented Shaun Vockins, soon to become the landord The Fox in Highworth, who is leading the voluntary effort to plan the project.
"We're creating a list of donors who we will need to collect apples from, and we're planning a couple of "Apple Days" which will incorporate collecting apples, pressing them for the juice, fancy dress competitions for the kids and presentations to the winners of the naming and design competitions."
Costs will be minimal as volunteers will collect apples and help with the pressing.

Local farmers will provide horse-drawn carts on collection days in Autumn when the fruit is ready to be collected, so the project expects to have a zero carbon footprint.

"We think this is a really exciting opportunity to involve the whole community," commented Denis Thurley of Highworth Business Group who are sponsoring the project.
"It's a great way to put Highworth's name on the map and raise some money for good causes at the same time."
Juice The Job!
Thirst-quenching thank-you to B&Q site workers from the Highworth Business Group ...

20 April 2011