The Direct Approach
Why an apprenticeship is the best route for Frank Ratajczak and Leigh Foster
While most of their mates have begun studying at university, New College employees Frank Ratajczak and Leigh Foster have taken a more direct approach to starting their careers.
Both are now getting hands-on experience as apprentices – ironically helping the college provide support for other apprenticeships.
They are still waiting to discover what options will be open to them at the end of the apprenticeship, but already recognise the benefits.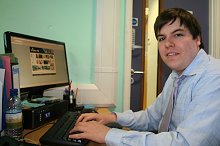 Frank, aged 20, is a former St Joseph's School pupil who dropped out of university and got some temporary work with Nationwide before coming up against the classis 'Catch 22' situation of not being able to find a permanent job because he didn't have enough experience, and not being able to get experience because he didn't have a job.
"Most employers want people with experience," said Frank, "but it's so difficult to get the experience in the first place, so this apprenticeship solves that problem.
"I do all kinds of admin work, including helping with enrolment, filing, arranging meetings and so on. And I really feel as though I am part of a team here.
"It's been a good step. Employers won't take you on if you don't have experience."
Former Highworth Warneford Schoolboy Leigh agrees.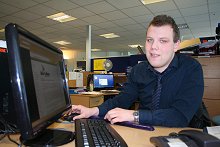 Still 18, he was a student at New College last year and says he is "a hundred per cent satisfied" with stepping over to become an apprentice on the payroll.
"It's always good to have experience," he said, "and we are getting lots of it.
"There is a lot to learn and we are assessed for an hour a week and have to produce a portfolio of work, but there is no pressure. If you get things wrong, they help you through it until you get it right. It's a great way to learn and I'm enjoying it."
Both Frank and Leigh also agreed that the year-long apprenticeship is providing them with a valuable insight into business and, crucially, also giving them breathing space to decide what they wanted to do with their careers.
Whereas apprenticeships might once have tied young people's hands with strict indentures, today the opposite is true.
The message is apprenticeships are not about beating out rigid career paths, but rather providing people with more options.
"My dream is to one day run my own business," said Frank, "and this year is going to provide me with the basic skills I need to work towards that."
Both are barely half-way through their apprenticeships, but already come across as confident, mature and – a real benefit that is often overlooked - happy.
They are certainly too modest to say it, but both these young apprentices give the impression that they just might have made a really smart move.
Apprenticeships in Swindon
High quality, work-based training programmes that benefit both the employee and the employer - B2B GUIDE...