Date added: 07 September 2006
Degree?
Getting on just fine without one, thanks!
ARCHIVE:

We look back on some Apprentice success stories SwindonWeb covered in 2006

All your mates off to uni? Worried you've made the wrong decision?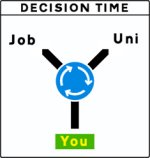 Big decisions:
but if you've ruled out
Worry not, because despite Tony Blair's tireless mission to send every teenager to university, it is by no means the be-all and end-all for young people.

Richard Branson, Alan Sugar and our own Billie Piper are just a few high fliers in the public eye who have never sat through a lecture or joined a student union.

And Swindon's recent self-made millionaire Alex Tew is another unlikely to regret not completing his degree, which he recently quit to pursue his entrepreneurial ambitions further.

Tew made a million dollars from his website Million Dollar Homepage and has dropped his business management course at Nottingham University to concentrate on his new venture - a social networking site like MySpace.

Many are simply better off getting their feet straight on the first rung of the career ladder without the expense of a degree and a hefty student loan.

Michael Miles, Connexions Personal Advisor, says "There are often many different routes into eventual careers and the route chosen should take into account interests, preferred learning styles, costs and readiness for work.

"Other than gaining a degree, options include Work-based Learning, Apprenticeships and Voluntary Work, all of which should be researched thoroughly."
To prove there is no shortage of opportunities for young people in Swindon, we met a few debt-free Swindonians with absolutely no regrets.
No complaints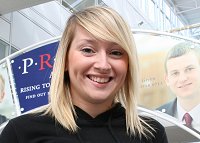 Felicity Orr, 21, is Complaints Supervisor for the Department of Payment Services at Nationwide.

Although she came out of New College with good A-levels, Felicity soon knew that university wasn't for her. It all started with a close shave... or several to be precise.

"If you want to be a lawyer or doctor or something then fair enough, go to university, but I think there are too many degrees for people who would be much better off heading straight into the workplace," she says.
"I got A-levels in Business Studies, Law and Psychology and after working in retail for a while came to Nationwide as a temp in the Accounts Transfer Team before being offered a permanent position.
"As a supervisor there is a great amount of responsibility, dealing with so many customers, working to tight deadlines, preparing reports and overseeing the structured stages of feedback to go to the ombudsman.

"Nationwide is a really good place to work - the people are friendly and there are good perks. It also gives you the possibility once you are here of securing jobs in other departments."
Toby Haynes, Andrews Butchers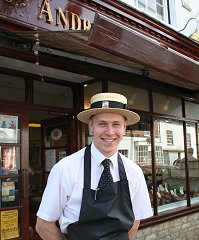 Toby Haynes, 22, is under manager at Andrew's Butchers on High Street in Highworth, and loving every minute.
Toby admits he didn't make the most out of school.
"I fluffed my GCSEs," says Toby. "I dossed around really - I didn't have any idea of what I wanted to do back then.
"After school I trained as a chef at Swindon College then took up a work experience opportunity at Andrew's Butchers. I haven't looked back since!"
Starting as an apprentice, Andrew was soon offered a job and four years later is thriving as Under Manager at the friendly village butchers.
Manager Aaron Hanley has been impressed by Toby's progression. "I took him on four years ago and he was very timid. But he's got a lot more confident and has matured incredibly. He's a great asset to the company."
"I'm happy as Larry," Toby adds. "It's fantastic being a village butcher. It's a really great one-to-one relationship with the customers, much better than working in a supermarket. My ambition is to become a manager."
Life in the Fast Lane
Clare Henley, BMW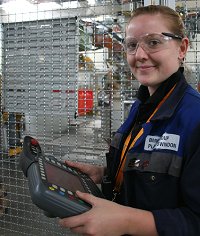 Having BMW and Honda plants right on our doorstep is something a lot of young people in Swindon are able to take advantage of.

Clare Henley, 23, served an apprenticeship at BMW between 1999 and 2003 and is now a Zone Technician, enjoying life in the fast lane.

"It was in my final year at Kingsdown School when we had a Girls' Skills Club held here that I decided this was what I wanted to do," says Clare.

"I soon enrolled on a four year apprenticeship and haven't looked back. From day one it was me and twelve guys but I really don't mind that. We're all about the same age (16-23) and it's like one big family."

"Doing the apprenticeship is like having a full-time job and going through education on top of that. It's really hard work but extremely rewarding - I learnt more in my four years here than in my entire time at school."
Whilst developing their skills in the company and gradually specialising into one area - be it robotic, mechanical or neumatic - the apprentices also study for qualifications including Level 2 and 3 NVQs, as well as Key Skills training.

They even have the option of studying a degree part-time and BMW are currently developing their foundation degree course with University of Bath.

Andrew Schumm, Training Manager, says "We have up to eighteen apprentices at a time, some who come straight from school, while others come from College or jobs.

"They benefit from a four years' fixed term contract allowing them to earn while they learn. They start on £9,000 but can be on £18,000 by the end of the four years."

Not to mention the perk of choosing a BMW car from the preferences scheme!
"I get to drive an X5," says Clare. "I'm loving it!"
Making Movies

Working with Woody Allen, Ewan McGregor or Steven Spielberg is just part of the day job for David Bell.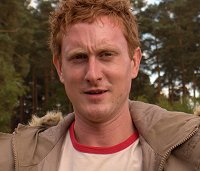 The former New College student is a Unit Manager with TV and film credits including Band of Brothers, Gosford Park and Ultimate Force.
"After completing my A-levels, which included Media and Film Studies, I started a degree," says David. "But soon into it I got work as a runner on Band of Brothers, so I quit uni to grasp the opportunity.

"Band of Brothers was immense and I really got on with the crew - it was the big break I needed and led to a great many opportunities."

David recently completed shooting in the Lake District on a film about the life of Beatrice Potter starring Ewan McGregor and Renee Zellweger, before being offered a job on Woody Allen's next film.
"There's work out there, but you have to be prepared for it," he says. "In this industry you just have to keep hassling and making phone calls, getting in touch with as many studios as you can.

"In my case I had to find all the location managers working and be a real pain in the backside!"
Apprenticeships in Swindon
High quality, work-based training programmes that benefit both the employee and the employer - B2B GUIDE...