Date added: 09 November 2007
One Millionth Honda Civic
Yet another production milestone for Swindon car giant

It was a momentous day for Honda workers today, as they revved to success with the millionth Civic rolling off the production line.

The red Civic Type R was met with applause from the very people who have helped make it happen. Some of whom were there when the first Civic model was built in Swindon in 1994.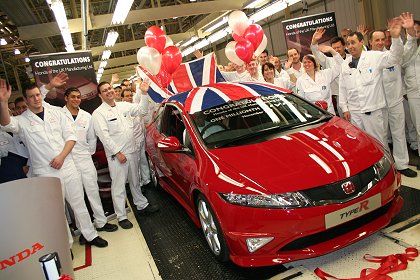 Honda staff celebrate as Civic production in Swindon
passes
the six-figure mark

The achievements of the worldwide car manufacturer has driven industry at the Swindon plant, which is home to the highly successful Civic and the CR-V 4x4.

The new Civic is uniquely built in Swindon, with almost 250,000 cars coming off the production line every year. It should come as no surprise then that the plant has become the centre of the Japanese firm's European operation.
When the first Honda car was built in Japan just after the Second World War, no-one could've predicted the company's astronomical worldwide success.

But over 60 years later, and on the other side of the world, the manufacturer has brought nothing but good things to the town, with employment at the plant currently standing at 5,000.
Honda's total investment in Swindon since 1985, when the factory first opened, now stands at £1.38 billion.

There will be cause for another sizeable celebration early next year, with Honda's two millionth vehicle expected to roll off the line.
Honda of the UK Manufacturing Ltd - Production Milestones
1985
HUM established
1986
Pre-Delivery Inspection begins
1989
Engine Plant production begins
1992
Car manufacturing begins in Car Plant 1 - Accord model
1994
Civic production begins
1996
10th Anniversary of Operation
1998

1 million engines

1/4 million Civics

1999

1/2 million cars

10th anniversary of engine production

1/4 million Accords

2000
CR-V production begins
2001

Car Plant 2 begins production

Civic 3-Door production starts

Civic Type-R exported to Japan

2002

10th anniversary of car production

Press Facility Expansion

End of Accord production

CR-V exported to North America

2003

1 million cars

1.5 million engines

2004

1/4 million Cr-Vs

15th Anniversary of engine production

2005

2 million Engines produced

3/4 million Civics

Diesel engine assembly begins

1.5 million car produced

2006

20th anniversary of Operation

1/2 million Cr-Vs

2007

'07 Civic Type-R production begins

Plant 2 Two shift operation begins

Civic Type-R exported to Australia

1 million Civics

One Millionth Honda Civic - 09/11/2007
Honda Fire
Production resumes after weekend blaze...

25 January 2016

I Predict A R-iot
Kaiser Chiefs frontman Ricky Wilson in Swindon to collect new Honda Civic Type-R - SEE PICTURES

20 August 2015

Honda Task Force
We speak to project leader Jill Annal ahead of the job fair organised for redundant workers...

19 May 2014

Honda Take Stock
340 production workers at Swindon plant face job threat after shift change...

25 March 2014

Honda To Cut 800 Jobs
Downturn in EU sales blamed for shock news today - but is it because the new Civic is (hate to say it) plain 'ugly'? - COMMENT

11 January 2013

Honda Launches CR-V
Big boost for Swindon as Business Secretary praises car plant investment...

07 September 2012

Recovery Starts Here?
New Honda Civic rolls off the production line as 500 new jobs announced...

19 December 2011

Asimo
Youngsters enjoy the power of robots at Swindon technology workshop...

Last Hurrah for Civic Type-R
This week saw the last of Honda's legendary and hugely successful Civic Type R's coming off the Swindon production line...

28 September 2005