Date added: 30 October 2008
Business on the Button
F1 star backs new group promoting Highworth as commercial location
Getting Highworth businesses talking is the first aim of a new business initiative launched this week.
Over 40 owners and managers gathered at Wrag Barn golf club to launch the Highworth Business Group [HBG].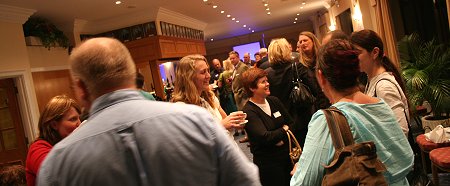 Talking Highworth business:
business owners and managers at the launch of the HBG
It aims to promote Highworth for the benefit of local business people and the community – and to show just what the town has to offer commercially.
The HBG even achieved the endorsement of Honda Formula One star Jenson Button, who sent a message of congratulations for the launch.

"I fully support Highworth Business Group's aims of putting something back into their community and it's great to know that the seats in my Honda car are made in Highworth. I just wish my racing seat was as comfortable!' - Jenson Button
Highworth's biggest employer TS Tech, who manufacturer the seats referred to by Button for the nearby Honda factory, are also right behind the idea as group sponsors. And the Town's newest business Highworth's Arts and Craft equally keen to get involved.
The group now looking forward to 2009 with a number of activities planned – all centred on putting Highworth on the business map.
"There are over 500 businesses in Highworth, ranging from big manufacturers to small businesses and people who work from home," said HBG chairman Steve Silk.
"The Highworth Business Group aims to represent them all."
It's The Eboladome!
And it's in Swindon! New Grand Tour test track gets the Clarkson treatment...

21 November 2016

Juice The Job!
Thirst-quenching thank-you to B&Q site workers from the Highworth Business Group ...

20 April 2011

Hello Jenson?
Is the F1 champ heading for Swindon? (well, there's no speed cameras) ...

21 November 2009

Bye bye Button
No more F1 thrills and spills in Swindon, then eh?...

05 December 2008