Date added: 07 September 2008
Nationwide takes over two building societies
Story update: 08 September 2008 4.12pm
Swindon financial giant grows to 15 million members after merger is confirmed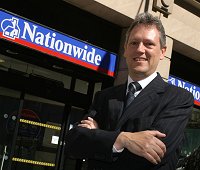 Nationwide chief executive

The merger of the Nationwide Building Society with the Cheshire and Derbyshire building societies has been formally announced.
A tie-up that now increases the Nationwide's customer base to 15 million members, £191 billion of assets and £122 billion of retail deposits.
Its high street presence will also increase to 1,000 branches.
Both the Derbyshire and the Cheshire approached the Nationwide after racking up losses in the first half of this year.
Commenting on the mergers, Graham Beale, Nationwide's chief executive, said:
"Nationwide is in a unique position because of its size and financial strength to provide support, and we regard it as both responsible and commercially beneficial to undertake these mergers.
"It provides an excellent opportunity for Nationwide to build on its strong position in the financial services sector, and will further enhance Nationwide's position as the leading UK building society."
Swindon financial giant all set to expand once again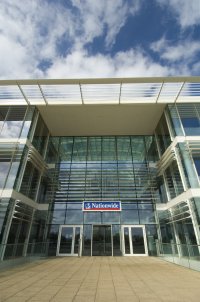 Society, which opened a new
Nationwide Building Society, the UK's biggest building society, has confirmed it is in 'advanced discussions' relating to a possible merger with the Derbyshire Building Society and the Cheshire Building Society.
The proposed tie-ups come a year after the Nationwide completed a merger with the Portman Building Society.
An 07 September statement released on the Nationwide website states: "The board of Nationwide Building Society can confirm that it is in advanced discussions with The Derbyshire and The Cheshire Building Societies over the terms of independent and proposed mergers.

"Further announcements will be made once those discussions have concluded."
Nationwide presently has 15 million customers, 20 million accounts and employs 26,000 people across the UK, over 2,000 at its Swindon HQ in Pipers Way and new call centre at Pegasus House.
Nationwide is the UK's 2nd largest high street savings provider and 2nd largest mortgage lender.
The news of the Nationwide merger comes on the same day as the takeover of struggling US mortgage giants Fannie Mae and Freddie Mac by the US Federal reserve was announced.
A rescue that it already being described as 'the biggest financial bail-out of all time' with both companies having under written mortgage debt of £3
trillion
pounds (£3,000,000,000,000).
Signed and sealed
Business as usual at Swindon branch as Lloyds TSB acquires HBOS...

17 September 2008

Record Low
Forget the weather, it's the economy that's looking stormy according to Nationwide...

06 August 2008