Date added: 18 June 2008
Going the extra mile
Car fleet company Arval celebrate Bike Week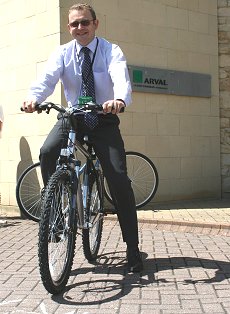 Company Secretary
Julian Brand
takes to the saddle for Bike Week
This week is National Bike Week, and one Swindon company have made a particular effort to get their staff taking to two wheels instead of four.
Car fleet giant Arval, based on Windmill Hill Business Park, have been celebrating the great outdoors with an initiative which has seen staff taking part in a mountain bike assault course in the car park, and a virtual bike challenge in the cafeteria.
Two members of the Swindon office also joined two of the Birmingham office's staff to ride the 75 miles from the Midlands to Swindon - and were welcomed home just after 6pm on Monday evening by cheers from the company's running club.
Tamina Oliver, Community Cycling Development Officer for the CTC (Cyclists' Touring Club) in Swindon, was on hand to promote the benefits of cycling.
"It's fantastic that Arval are getting so involved, particularly because their staff deal with cars all day long," she told us.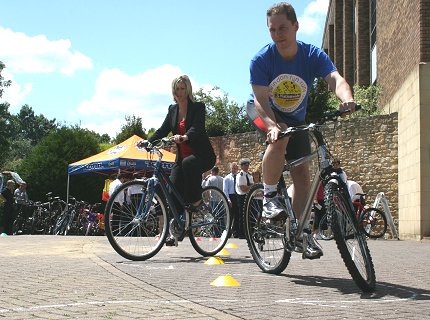 Keith Williams from the Development Team
and Laura Price from Corporate Services

"It's not just about going green, but staying healthy as well - and I think staff here have been great to get involved."
Patrick Norris, of the Great Western Community Forest, said: "We've got so many beauty spots to go cycling in Swindon, that there's no excuse for people not to get out there and enjoy the summer on a bike."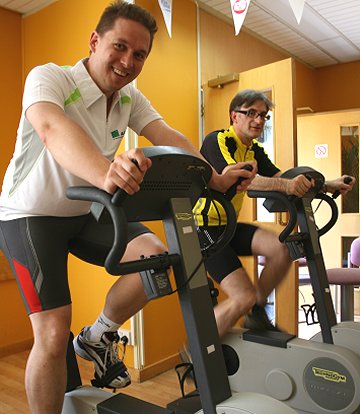 Keith Williams and Martin Goodey in Arval's cafeteria
The CTC have been running for four months in Swindon, and if you or your company would like more information on how Tamina can help you get involved in cycling, please email
tamina.oliver@ctc.org.uk
, or telephone 01793 466315.

Arval Bike Week - 18/06/2008
Cycling in Swindon
Bikes at the ready! This guide tells you everything you need to know about cycling around Swindon...

Swindon Bike Week '09
It's never been a better time to get on yer' bike! - full list of events...

10 June 2009

Flying high!
Arval employee to represent UK at World Air Games...

21 August 2008