Date added: 25 February 2008
Another month, another milestone
Two-millionth Honda rolls off the line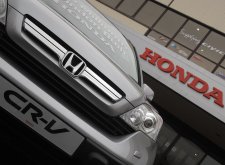 the Honda CR-V which rolled off
the line on Thursday evening
It's another month and another milestone for the Honda factory in Swindon, with their 2 millionth car rolling off the production line on Thursday – just 12 weeks after their 1 millionth Honda Civic.
This time the car produced was a silver 4x4 Honda CR-V, which was greeted by dozens of staff members, excited to see the final product.

The Honda factory has been an essential part of Swindon's economy since it first arrived in Swindon 16 years ago, and currently employs over 5,000 staff.

And this momentous occasion also coincides with the announcement that Honda will be investing a further £80 million in to it's UK manufacturing operations.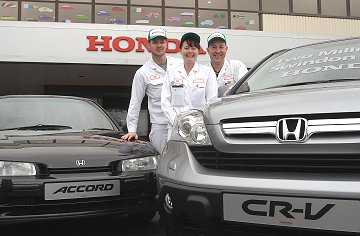 Something old, something new:
the first ever Honda car produced in Swindon
16 years ago, with the two-millionth car built here

David Hodgetts, Director at Honda UK Manufacturing Ltd, said: "We are extremely proud of our workforce here in Swindon.

"This major milestone demonstrates the scale of our achievement, and this fresh investment will enable Honda to improve overall competitiveness and increase the level of localised manufacture in Swindon."

Honda Two-Millionth Car - 25/02/2008
Honda Fire
Production resumes after weekend blaze...

25 January 2016

I Predict A R-iot
Kaiser Chiefs frontman Ricky Wilson in Swindon to collect new Honda Civic Type-R - SEE PICTURES

20 August 2015

Honda Task Force
We speak to project leader Jill Annal ahead of the job fair organised for redundant workers...

19 May 2014

Honda Take Stock
340 production workers at Swindon plant face job threat after shift change...

25 March 2014

Honda To Cut 800 Jobs
Downturn in EU sales blamed for shock news today - but is it because the new Civic is (hate to say it) plain 'ugly'? - COMMENT

11 January 2013

Honda Launches CR-V
Big boost for Swindon as Business Secretary praises car plant investment...

07 September 2012

Recovery Starts Here?
New Honda Civic rolls off the production line as 500 new jobs announced...

19 December 2011

Asimo
Youngsters enjoy the power of robots at Swindon technology workshop...