Why Park and Ride?

If you live within driving distance South Swindon (Croft Road, towards Wroughton) then you can save time, money and frustration by using the Swindon Park & Ride service.

You leave your car (or cycle) free of charge in a secure, supervised car park and travel on a frequent, modern and comfortable bus into the heart of Swindon or Old Town. Some of the route uses bus lanes and there are other bus priority measures to speed the journey. You avoid the stress of trafffic congestion and looking for parking places. Huge savings on long stay car parking charges can be made.
How often does the bus run?

Mondays to Fridays: Every 20 minutes
Saturdays: Every 30 minutes

First bus from Wroughton (Swindon South)
Mondays to Fridays (except Public Holidays): 0655
Saturdays: 0802

Last bus from the Town Centre (opposite Debenhams) to Wroughton (Swindon South): 1835

No service on Sundays or Public Holidays.
Where is the Park & Ride Site?
| | |
| --- | --- |
| | Map of Park And Ride in Wroughton (South Swindon) |
What does it cost?
From Wroughton Park and Ride (Service 15)
Adult Fare
(single fare to and from Swindon Town Centre)

£2.00

Children
(between 5 and 16 years)

£1.30

Accompanied Children
(under 5, up to 4 children per adult)

FREE

Special Fares
Day Rider Adult

£3.80

Day Rider Child

£2.70

Day Rider Adult & Kids*

£4.80

Day Rider Family**

£6.80

TravelPass 1 week

£14.50

TravelPass 1 month***

£54.00

TravelPass 3 months***

£153.00

Assistance Dogs (blind & deaf)

Free
*One adult and up to three children.
**Two adults and up to three children, reduced to £5 on Saturdays and Swindon school holidays
***Only available from our Travel Shop in Fleming Way

Where does the bus stop?

Service 15 calls at all stops en-route to the town centre including the following:

Old Town
- Old Town (Prospect, top of Victoria Road)

Town Centre
- Regent Circus (near Town Hall, Wyvern Theatre and Library)
- Fleming Way Bus Stop (set down - by Debenhams, pick-up opposite Debenhams)

ROUTE DETAILS

ROUTE DETAILS: From WROUGHTON via Croft Road, Devizes Road, Victoria Road, Regent Circus, Princes Street and Fleming Way.

Mondays to Fridays - NOT PUBLIC HOLIDAYS
From Wroughton:
0655, 0715, 0732, 0754, 0814, 0834, 0854, 0914, 0934, 0952
then every 20 mins at
12-32-52
mins past each hour until
1532

From Town Centre (Fleming Way, Stop V):
0925, 0945
then every 20 mins at
05 - 25 - 45
mins past each hour until
1805, 1835

Saturdays
From Wroughton:
0802, 0832
then every 30 mins at
02 - 32
mins past each hour until
1532

Returning from the Town Centre (Fleming Way, Stop V):
0935
then every 30 mins at 05 - 35
mins past each hour until
1835

No service on Sundays or Public Holidays.

You can download a pdf of all of the above by clicking the link below:


- Park and Ride information
Please note, you will need a copy of Adobe Acrobat Reader to view this file. You can download a FREE version of this file by clicking the button below: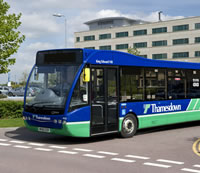 Thamesdown Customer Helpline (01793) 428428