Date added: 02 April 2009
Was it the free champers or the shopping?
Hundreds queue to shop at new Marks and Sparks
There was no sign of a dip in retail spending in north Swindon today, as shoppers flocked to the opening of a brand-new Marks and Spencer.
Store manager Dave Smith and his team of staff unveiled their 37,186 sq ft store at the Orbital Shopping Park with a traditional ribbon cut - before inviting over two hundred queuing customers through the doors to continue celebrations inside with a complimentary glass of champagne.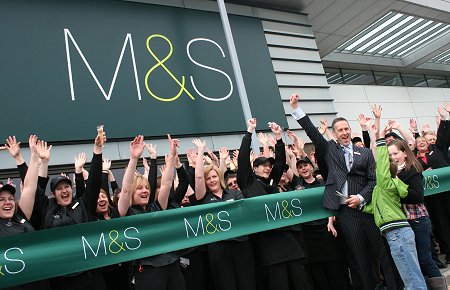 Opening day celebrations:
the new Marks and Spencer in north Swindon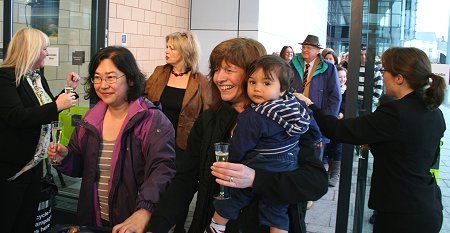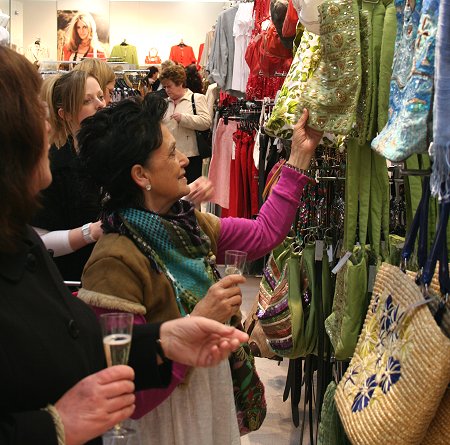 The superstore offers all the M&S usuals including a wide selection of fashion across womenswear, including per una and Portfolio, their new high-quality brand.
A menswear department featuring the Autograph range plus childrenswear, lingerie and accessories are also available, plus homeware.
Shoppers can also expect to find an extra-large M&S Food Hall plus an 80-seater cafe.
"It's been a busy time getting the store ready but we're delighted with the finished results and we hope our customers will be too," commented a delighted Mr Smith.
Marks and Spencer opened a similiar new-look store in Swindon town centre in September 2008, and now have three major shops in Swindon including their store at the Designer Outlet.

Marks and Spencer Swindon Orbital - 02/04/2009