Date added: 19 May 2009
Swindon Community Clean-Up
McDonald's and Nythe Primary School take part in cleanup campaign
Swindon town centre was almost litter free this morning thanks to the efforts of children from Nythe Primary School.
In an event organised by local McDonald's franchisee and chairman of inSwindon, Paul Booth, 20 pupils took part in a clean up alongside teachers, community Policemen and members of inSwindon staff.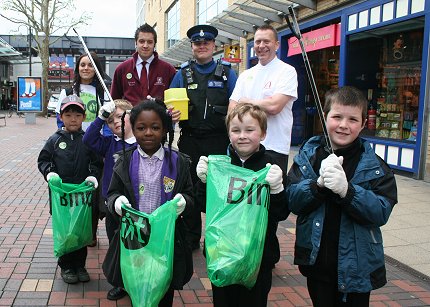 children from Nythe Primary School alongside inSwindon Chairman Paul Booth (r)
The children were shown the importance of litter responsibility and recycling.
"It's great to get involved with a community project like this, which inspires our youngest generation to take pride in their town and to learn whilst having fun," commented Mr Booth.
"We are committed to showing the community that littering is unacceptable and we hope this event helps to raise awareness of the damage it can cause to our environment."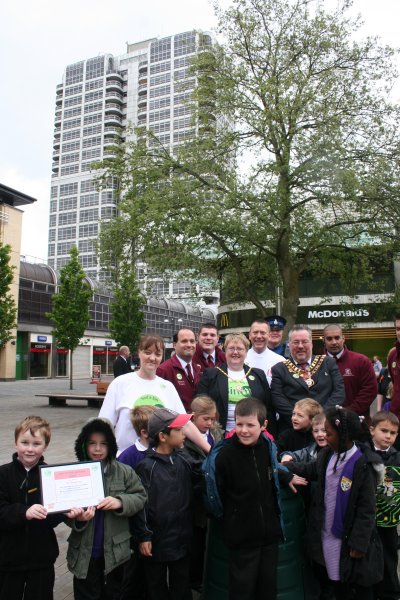 the cleanup group gathered in Wharf Green
Arranged with the support of inSwindon, the Business Improvement District company in charge of managing Swindon town centre and its CEO Simon Jackson, the children also took part in an informative litter quiz organised by the team at McDonald's, with prizes on offer for those truly clued up on their litter and recycling knowledge.
The Mayor of Swindon, Councillor Steve Wakefield and Swindon's official Town Crier, Fred Ferris presented the prizes for the best litter pickers.
To ensure the pupils from Nythe Primary School continue their good work and encourage their classmates to look after their environment, Swindon Borough Council have also provide the local school with a composting bin after the event.

McDonalds Litter Pickup - 19/05/2009