Date added: 28 May 2009
Reptiles are being snapped up in Swindon
Planet Reptile is offering a different kind of pet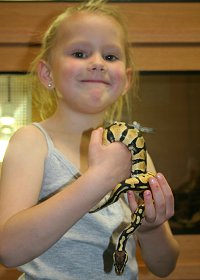 Planet Reptile, Newport
Street,
in Old Town
Snakes, lizards and taranchulas ...not normally the animals you would find in Old Town.
But, as of Saturday last week, Planet Reptile is a new shop that offers our town a different kind of pet.
Opened by Peter Blake, the new store offers it's visitors and customers an interesting look into the weird and wonderful reptiles they stock.
"We have had a great response since opening", Pete told us, "I have always been into reptiles and they make such great pets."
"What is different about our store to everywhere else is the customer care we give after the customer has made a purchase," he added.
"We try and sit down and go through how to care for the animal, and encourage our customers to come back and see us."
The shop also offers a herpetology course - where anyone interested in reptiles can come and learn about the creatures.
For more information please see the Planet Reptile website via the link below.