Date added: 26 July 2009
Books not bras, please!
Hundreds protest at Borders closure
Over two hundred people made a silent protest at the Orbital Shopping Park today in a bid to reverse the imminent closure of Borders book store.
The shop is due to shut on 04 August to be replaced by a New Look fashion outlet, but customers and former staff are pleading for a re-think.
The message from five young protesters: 'Books not Bras, please!'
youngs customers making their plea at the Orbital Shopping Park, while others took part in a silent reading protest on nearby steps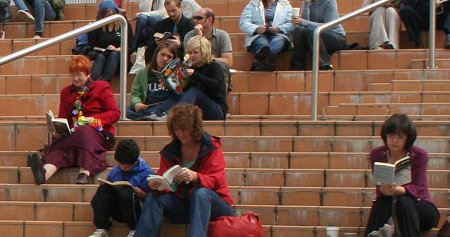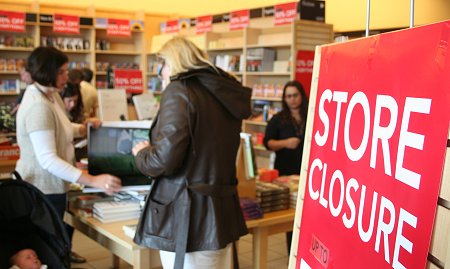 "It's a fantastic place to visit," said Peter Dilly, who led the protest and who previously worked at the store.
"It's more than just a place to buy books and DVDs, it's a real part of the community. That might sound stupid, but it really is.
"People came here to meet and it's the only place of its kind in the area. And over two hundred people have turned up today to support our plea to keep Borders open.
"I'm not alone in thinking it will be sorely missed in Swindon."
More details on the campaign are available via the Save Borders website, link below.