Date added: 03 March 2010
New look for Debenhams
£1.5 million face-lift big boost for town centre shopping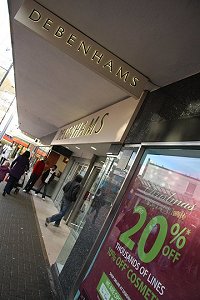 Debenhams in Swindon is set to be transformed with a £1.5 million refit, it has been announced.
Work will start on the department store in the Parade on 15 March and is expected to last for 16 weeks.
The Swindon store is one of only three Debenhams to receive such a make-over in the UK, the others include their flagship stores in Manchester and Glasgow.
"This s fantastic news for shopping in Swindon town centre," said Simon Jackson, CEO of inSwindon, the town centre management company.
"This together with the BHS development in Bridge Street and the news on the former Swindon College site means the shopping experience here is really set to improve in the coming year."
USC Opens In Swindon
Premium streetwear, denim brands, footwear & clothing store joins big names in The Parade...

18 August 2011

NEW! River Island
Bigger and better, Parade store opens in time for spring & summer season...

16 March 2011

Let it flow
New Canal Walk fountain is switched on for the first time...

19 May 2010