Date added: 07 April 2010
Spring trends 2010
We ask advice from Val from Juvals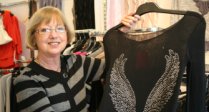 Val Richman, owner of Juvals
We reckon the start of the spring and summer 2010 season means it's time to refresh your wardrobe.
Yes, the long hard winter is behind us!
So who better to ask than the owner of one of Swindon's most established ladies clothes shop - Val Richman of Juvals in Wood Street.
"The women's military fashion trend isn't going anywhere," commented Val, "and we still love it."
"This Easy Comfort jacket with the lovely detail with the buttons is fantastic."
"What I particularly like is its material is light for spring."
"Stripes, florals, graphic prints and abstract shapes. Bright and bold, or subtle and sophisticated - it's all in this spring."
"This top is fantastic to dress up for night, or with tights for day wear, plus the look can go across the ages - fantastic!"
See-through and sheer fabrics…
"I love this trend, the fabrics are light but you can dress everything up. I particularly love our light jumper range with the diamante details on the back."
"And if you want to go more we have a great range of Glamorous bra straps that show through if the top falls off your shoulder - sexy ladies!"
"It's all about the great bags we have in stock at the moment," Val said. "We have these great Gabriella bags that are flying off the shelves at the moment."
"But If I could recommend one thing for an outfit though, it's our scarves. They have a real edge to them and have a slight hint of silver in amongst them."
Spring Fashion Picture Gallery
QUBA & Co
Nautical fashion designer opens at Swindon Designer Outlet...

04 June 2011

Racing into Spring!
Designer Outlet Horseback Fashion Show hails start of races fashion season...

06 April 2011

Par-fection!
Urban 18 autumn/winter men's fashion displayed at Longs Bar - SEE GALLERY...

26 September 2010

Mauve it!
It's a purple haze out there - but here's a few early season tips & hints for fashion followers shopping in Swindon town centre...