Men's Summer Trends 2010
Great news - it's keep it simple boys! And here's how...

Hello boys! The World Cup's over and - believe it or not - itís time to start thinking about putting away those wolly jumpers and start shopping for the spring and summer fashion trends!

And to help you get the best look in 2010 weíve teamed up with personal stylist Judith Stephenson from the Swindon Designer Outlet to guide us through the top six looks of the season.
Preppy? Nautical? Or Denim?
Stick with a soft basic colour pallet with grey, navy blue, white and black, but add a touch of the seasons colours red, orange and yellow to inject some fun.
Nautical strips are essential this season and can be worn to suit any shape. For a slimmer look do the stripes on a t-shirt with a darker colour cardigan or jacket on top.
This season shorts are smart and classic with no added frills, simply roll them up at leg and youíre good to go.
The preppy look is everywhere and is set to last into next season.
Invest in some great polo shirts and be sure to do your buttons up to the top, do this with shirts too.
Jeans need to be slimmer in the leg and in a darker wash, again roll them up at the leg to keep your summer look up to date.
The denim on denim trend is still huge this season but to steer clear of getting it wrong, just invest in a great denim shirt.
Wear it open over a basic t-shirt or done up to the top with the sleeves rolled up, add a pair of classic slim leg trousers or if youíre brave some jeans.
And not forgetting.... complete your summer look with the right footwear.
The Deck Shoe, The Daps and The Workman Boots - essential!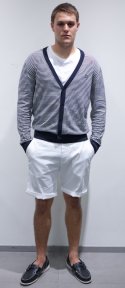 LOOK 1: Nautical Jaeger
RRP £65.00 OUTLET £20.00
Tommy Hilfiger White Cotton Scoop Neck
RRP £22.00 OUTLET £15.00 (pack of two)
Henry Lloyd Navy and White Strip Cardigan
RRP £65.00 OUTLET £25.00
Jaeger Cotton Navy Cardigan
RRP £120.00 OUTLET £15.00
Henry Lloyd Navy Deck Shoes
RRP £65.00 OUTLET £25.00
Lloyd Denim Effect Rain Mac
Special Outlet Price: £40.00
Henry Lloyd Red Cotton Polo
RRP £50.00 OUTLET £20.00
Ted Baker Slim Fit Wool Tonic Trousers
RRP £85.00 OUTLET £20.00
Hugo Boss White Leather Trainers
RRP £179.99 OUTLET £75.00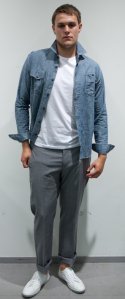 LOOK 3: Denim
RRP £129.00 OUTLET £49.00
Tommy Hilfiger Grey and White Linen Scarf
RRP £ 30.00 OUTLET £14.99
Ted Baker Slim Fit Wool Tonic Trousers
RRP £85.00 OUTLET £20.00
Tommy Hilfiger White Cotton Scoop Neck
RRP £22.00 OUTLET £15.00 (pack of two)
Hugo Boss White Leather Trainers
RRP £179.99 OUTLET £75.00

QUBA & Co
Nautical fashion designer opens at Swindon Designer Outlet...

04 June 2011

Racing into Spring!
Designer Outlet Horseback Fashion Show hails start of races fashion season...

06 April 2011

Par-fection!
Urban 18 autumn/winter menís fashion displayed at Longs Bar - SEE GALLERY...

26 September 2010

Mauve it!
It's a purple haze out there - but here's a few early season tips & hints for fashion followers shopping in Swindon town centre...

Spring trends 2010
What's hot in the shops? We ask advice from Val at Juvals...

07 April 2010