Mauve it!
It's a purple haze out there - but we've got a few early season tips and hints for fashion followers shopping in Swindon town centre
Well, ladies, what can we say? Just when the summer seems to be over everyone starts talking about coats, wrapping up and the winter chill - but not us!

We know September and October are those awkward months where no one is ever sure what the weather is going to do but that's no time to think the days of flowing dresses and skirts are behind us, albeit maybe with tights or a nice cosy cardy.

But if there's one thing that we do know for this coming season - it's the colour purple.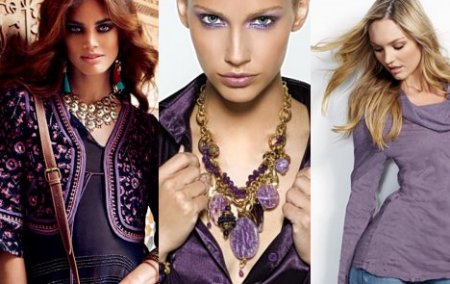 find your complete look in Swindon town centre this coming Autumn and Winter
You find it's shade and colour cousins, mauve, aubergine and blackberry dominating looks and shop windows up and down Canal Walk, Regent St, The Brunel and The Parade.
We especially liked the new knitwear that's just arrived at Monsoon and Next and especially the Red Herring Range at Debenhams, all very lightweight and ideally practical for when the temperature drops just a little (often suddenly!) at this time of year.
>

Monsoon

- more info
>

Debenhams

- more info
>

Next

- more info

Eyes, lips and nails
Best of all, of course, is that you don't have to splash out to be bang on trend. A touch of purple make-up in all the right places can be more than enough to compliment any outfit and mood.
Be subtle and go for something matt and smudgy on the lips and eyes - or go glossy on the nails with a glittered nail polish.
Superdrug have a super choice on offer at the mo, with more to come in October.
>

Superdrug

- more info
No shrinking violet?
A finally.... why not kick off the new season with something the man in your life will enjoy as well (sorry, chaps, we have been ignoring you here haven't we!) - a luxurious chiffon bra.
La Senza now have a fantastic range just in.
>

La Senza

- more info
QUBA & Co
Nautical fashion designer opens at Swindon Designer Outlet...

04 June 2011

Racing into Spring!
Designer Outlet Horseback Fashion Show hails start of races fashion season...

06 April 2011

Par-fection!
Urban 18 autumn/winter menís fashion displayed at Longs Bar - SEE GALLERY...

26 September 2010

Spring trends 2010
What's hot in the shops? We ask advice from Val at Juvals...

07 April 2010