Date added: 06 October 2010
The Parade gets a revamp
Canopies set to be removed to rejuvenate town centre - STARTING 10 OCTOBER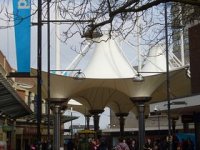 Swindon's shoppers will notice a number of great new changes happening at The Parade over the coming weeks as the centre gets ready to unveil the first shop to open as part of the redevelopment of the Bhs store.
The Parade will be given a more modern feel by removing the canopies currently installed outside Debenhams, letting more natural light flood into the shopping centre and improving the overall environment and shopping experience.
The dismantling of the canopies will begin on 10 October and work will be carried out during the night in order to minimise disruption.
It is expected to be completed within ten days. This is in preparation for the arrival of the new Topshop and Topman store, which will be opened on 18 November.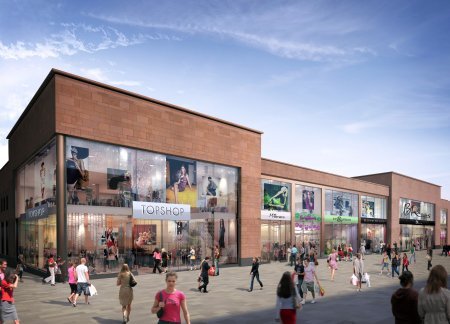 New retail space:
An artist impression of how it will look
This larger, more modern store will join The Parade's current 'catwalk' of fashion outlets, including Debenhams, Monsoon and River Island – making the area Swindon's premier fashion district.
"The new look Parade shopping centre is sure to be a hit with shoppers and together with the new shops that will soon be opening, will complement the current refurbishment of the town centre as well as attracting exciting new retailers to the area," commented Brian Morris, manager of The Parade shopping centre.
"The decision to remove the canopies was taken in order to rejuvenate the area. Feedback we received from shoppers indicated that they made the area dark and stopped people being able to easily see the variety of shops in the area. They were also beginning to look a little bit tired and were proving costly to maintain to the standard we desired."
The redeveloped Bhs unit will be home to Topshop, River Island and Bhs, as well as four other retailers, and will all be open by spring next year.
USC Opens In Swindon
Premium streetwear, denim brands, footwear & clothing store joins big names in The Parade...

18 August 2011

NEW! River Island
Bigger and better, Parade store opens in time for spring & summer season...

16 March 2011

Let it flow
New Canal Walk fountain is switched on for the first time...

19 May 2010