Date added: 25 March 2011
Queuing since 8am this morning
Eager shoppers finally get their hands on the new iPad 2
After sitting patiently for over 9 hours, Barry Milsom was the first person to buy a new iPad 2 in Swindon today.
At precisely 5pm, Western Computer in the Brunel Centre opened their shutters to put sixty shoppers out of their misery by allowing them to buy one of only a few new second generation iPads in stock.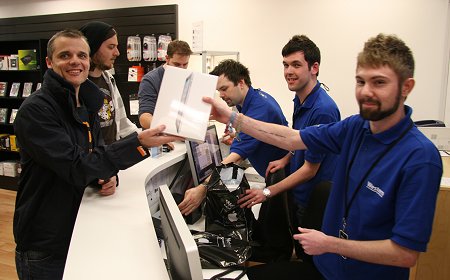 the first iPad 2 is sold at Western Computer
Customers were strictly limited to a maximum of two per person on a first-come, first-served basis. And Western Computer were expected to be sold out by Sunday (but with more supplies on there way).

The new version is faster, lighter and whiter. The first iPad was 13.4mm thick and the new tablet is thinner at just 8.8mm.
Western Computer, The Brunel Centre

iPad 2 at Western Computer - 25/03/2011
QUBA & Co
Nautical fashion designer opens at Swindon Designer Outlet...

04 June 2011

Plum Perfect
Town centre pub re-opens with family fun day...

02 April 2011