Spring Fashion 2011 in Swindon
Banish those winter blues with our fashion guide this spring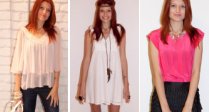 The sun is shining, lambs are leaping and weekend newspaper supplements are offering tonnes of style advice - it's time for spring fashion!
So we've teamed up with House Of Fraser's Emma Hunter to run through her top three trends this spring.

White out
White is the biggest color trend this spring, and it's all about wearing it in an elegant, pared down, modern way.
I love showing off the new way of wearing white with a less-is-more attitude and the focus on fit and sophistication. A lot of designs are going for a romantic inspired feel, featuring soft see-through fabric, but my personal choice is the Conscious Collection range in H&M.
Team it up with some feathered accessories and a headband and you will create a groovy-girl edge to the look.

Go big with wide-leg pants
It felt like yesterday when we were putting them away in the back of our wardrobes – but they're back, and they're wider than ever. Wide leg trousers come in a variety of waist heights, from super-high '70s to lower-slung and can be worn now.
I team mine up with a vintage inspired look and wedges. The taller the better is what I say this season. River Island has a great choice of vintage clothes and bags to die for.

Make a bold statement
Forget any shade that is dusty or muted. Spring is all about the-bolder-the-better brights. But what really sets these colours aglow are the unexpected combinations: pink, orange, and deep purple; turquoise and taxi cab yellow; lime and emerald green.
It's this palette of knockout hues that creates such a range of riveting contrasts. Plus it's nice way to cheer yourself up when it's still nasty outside. Team this with a ruffled skirt or top will sweeten up everything you wear.
Happy shopping
Please donate to Tami's charity, Tami's Wish, her story is inspirational.
USC Opens In Swindon
Premium streetwear, denim brands, footwear & clothing store joins big names in The Parade...

18 August 2011

QUBA & Co
Nautical fashion designer opens at Swindon Designer Outlet...

04 June 2011

Racing into Spring!
Designer Outlet Horseback Fashion Show hails start of races fashion season...

06 April 2011

Plum Perfect
Town centre pub re-opens with family fun day...

02 April 2011

NEW! River Island
Bigger and better, Parade store opens in time for spring & summer season...

16 March 2011

Par-fection!
Urban 18 autumn/winter men's fashion displayed at Longs Bar - SEE GALLERY...

26 September 2010

Mauve it!
It's a purple haze out there - but here's a few early season tips & hints for fashion followers shopping in Swindon town centre...

Spring trends 2010
What's hot in the shops? We ask advice from Val at Juvals...

07 April 2010