Date added: 07 October 2011
The Picture Looks Bright For Hickmans
Well known TV & electrical name re-opens in Old Town
Hickmans, one of best-known names for TV and electricals in Swindon, is back on the high street.
The store closed suddenly in April this year after trading for 80 years but has been bought by another well-known name, Burden Electronics, and re-opened again in Old Town.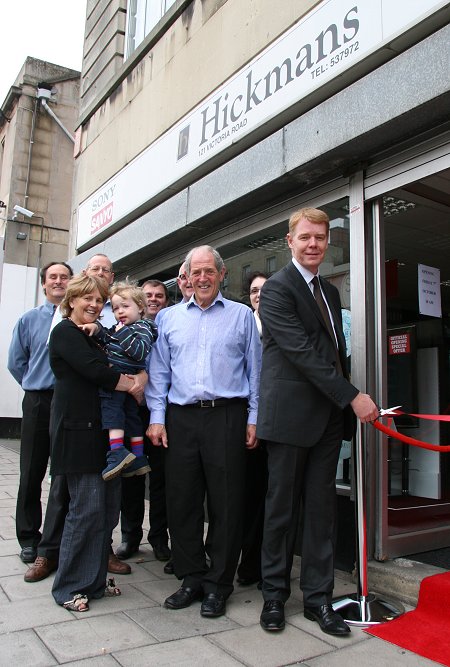 Iain Black, chairman of the Old Town Business & Professionals Association cuts the ribbon to re-open Hickmans TV & Electricals in Victoria Road
"It made total sense take the business on," said Randy Burden, pictured above, centre, alongside his family and staff.
"Burden's and Hickmans had been friendly rivals in Swindon for nearly half a century and we've taken the opportunity build on the good customer service Hickmans was always known for."
To that end, previous manager Colin Small, a familiar face at Hickmans for 22 years, has been recruited as well as service manager Keith Bailey.
In addition to TVs and servicing, Hickmans will now also be offering a complete range of domestic appliances including washing machines, dishwashers, fridges and freezers.
Randy Burden (l) alongside Hickmans' Keith Bailey and Colin Small
The Old Town showroom was officially re-opened by Old Town Business & Professionals Chairman Iain Black who was delighted to see the business back in Victoria Road.
"It's especially good for Old Town and good for Swindon as a whole to have strong independent name back trading again," he said.
Old Town, Swindon
07 October 2011
Hickmans
TV & Electricals
121 Victoria Road
Swindon
SN1 3BH
Plasma or LCD/LED?
Burdens Electronics in Swindon are here to help with one of the hardest choices when buying a new TV...

Old Town
Our guide to the oldest part of Swindon...