Autumn & Winter Coats
It's most definitely getting chilly outside, ladies.
So here's a few ideas for wrapping up warm this season from the stores in Swindon town centre.
A what a choice we have for you.
Traditional style, autumn brights, back to school, a little bit of leather! - plus the big trend for 2011/2012 - a spot of fake fur.
You'll find all these looks and trends at the likes of Marks & Spencer, Top Shop, Debenhams, Monsoon, Primark, Peacocks, Next and more all conveniently located near each other in The Brunel Centre, Parade and Regent Street.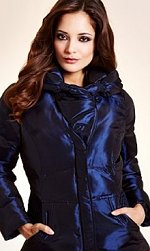 Marks & Spencer
The lovely summer evenings may have gone, but there's no reason why you shouldn't keep things bright and beautiful just as the clocks go back.
Colour blocking is still the 'in' thing this season, so don't be scared to bring a bit of stand-out colour to your wardrobe.
Choose reds, yellows, pinks and blues - and compliment the look with with similiarly bold skirts and tights.
We particularly liked this royal blue padded jacket from Per Una at Marks and Spencer - very casual diva!
Bang on trend, ideal for the school run, work or play it's sure to brighten up any dull day.
Talking of the school run, is there anything that makes you feel more cosy and comforting than a duffel coat? Apart from a lie in under the duvet, that is!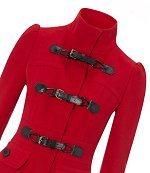 Primark
Just look in the store windows and you'll see duffel coats are making a big comeback. They're the type of essential item that never really date and for keeping the cold out and the warm in, we don't think you can beat them.
You can even double-up on trend if you want to and go for a colour that'll defintely stand-out like a turquoise or a zingly yellow.
One that caught our eye was this red military coat by Primark at just £30. Beautifully tailored and not too 'school pl
ayground' if that's not quite your thing.
And no, we're not talking mink coats here. But a little bit of the fake stuff around the collar and cuffs - or may be all over!
It's the key trend for this autumn and winter and one where you can enjoy spending your hard-earned money on something that's not only feels warm - and just a bit luxurious - but is completely in fashion.
Like we've said, modern fur coats don't use real fur - and nor should they.
Modern fabrics means a fur coat may be a fake but it's a proper one and does exactly what fur should do - keep you warm as nature intended and with a texture that looks fabulous.
This dark grey example (below left) currently at Debenhams is a soft faux fur with a lovely chunky funnel neck and belted waist. Great for winter walks and at £110, hubby won't be too grizzly when you tell him how much it cost!
| | |
| --- | --- |
| Debenhams | Next |
For those who like things in moderation (and don't we all sometimes), a spot of the furry stuff in all the right places is the ideal solution.
The Faux Shealing jacket above from Next combines the look perfectly and if you look closely even includes a bit of duffel for a another fashion double-up!
Top Shop
So far we've concentrated on wrapping up as snuggly as you can against the winter weather ahead, but sometimes we all need a coat that's not too bulky, padded or what we'd call 'fireside'.
There are times - especially at work or on an evening (and the Christmas party season is only 2 months away) - when a coat more classic is required.
The trench coat fits in beautifully here and we spotted this one at Top Shop that ends our feature perfectly.
A little bit different, yes. Not for everyone, yes. But styled brilliantly.
You can go for something less two-tone if you wish and with a trench you can even combine all the trends above in one go by finding one with a fur collar, a little bit of leather or in a bright collar. H&M for instance have some lovely examples in stock at the moment.
But whatever you do....... you'll find exactly the coat that suits you in Swindon town centre - and you'll have great fun choosing it as well.
The Vintage Look
Look bang up-to-date by stepping back in time this autumn and winter!...

£2 for 4 hours
Reduced fee at town centre car parks to continue over Christmas...

18 October 2011