Date added: 01 December 2011
Suited & Booted!
McCarthurglen Swindon tackles rugby suits with Designer Jeffs Banks
Bath Rugby players got suited and booted to mark McArthurGlen's Swindon Designer Outlet partnership with leading menswear designer Jeff Banks.
England player Olly Barkley, who has won 23 caps for his country, Scottish International Jack Cuthbert and Ben Williams, former U18 England player, all swapped their iconic blue, black and white rugby kit, for tailored Jeff Banks suits.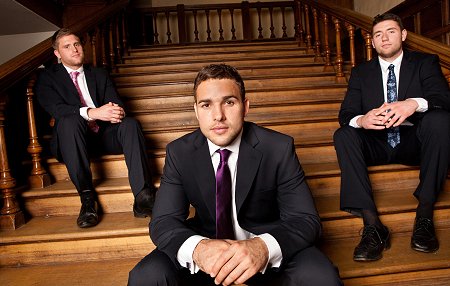 Bath rugby's Olly Barkley with Ben Williams (left) and Jack Cuthbert
This is the first time that McArthurGlen's Swindon and Jeff Banks have been Bath Rugby's Formal Wear Supplier, following in the footsteps of John Lewis and T.M. Lewin.
The suits have been designed exclusively for the team with an additional touch of light blue stitching around the button hole and on the sleeves.
The announcement comes as the centre reports menswear sales are up 18% year-on-year, and like-for-like sales are +11% year-on-year, as the Christmas season drives men to invest in formal style.
Tina Cumpstey, Centre Manager at McArthurGlen's Swindon Designer Outlet, says: "We pride ourselves on offering shoppers designer and high street brands, at up to 60 per cent less. With leading menswear brands including Jeff Banks, Charles Tyrwhitt, Hugo Boss and Henri Lloyd, the centre offers a range of options for men looking to update their formalwear in the run up to the festive party season.
"We're not far from the Bath Rugby training ground and many of our shoppers are team supporters so this is an exciting partnership for us."

Jeff Banks is one of Britain's leading menswear designers, with over 40 years of experience in the fashion industry. Jeff Banks offers a range of quality, tailored products, ensuring an exceptional cut and finish.
As well as formalwear, the designer also has a broad range of complementing casualwear including polos, t-shirts, casual shirts, jerseywear and jeans.
Jeff Banks, British menswear designer, says: "I'm thrilled to partner with McArthurGlen's Swindon and provide the Bath Rugby team with their formalwear this season. All the suits were tailor made for each player – which resulted in us creating some of the largest shirts and jackets in all our history!"

Olly Barkley, Bath Rugby and England player, says: "We represent Bath Rugby club at various presentations during the season, and also after all our match games, so it's really important we look smart. All the boys love the suits, and we're planning a trip to the centre to stock up on some winter pieces before Christmas."

For more information on McArthurGlen's Swindon Designer Outlet or to book a free style consultation, please visit: www.swindondesigneroutlet.com or call: 01793 507625
The Designer Outlet is open until 8 pm weeknights, M4 junction 16.
Christmas Starts Here!
Carol singers, reindeer & rugby stars light up the Designer Outlet - SEE GALLERY...

12 November 2011