Date added: 01 August 2013
Wood Street Food Hall Now Open
Old Town on the up with even more shopping choice
Shoppers gave a unanimous thumbs up to the Wood Street Food Hall, which opened today.
The new store is a joint partnership between butchers TH Burroughs and The Lobster Pot fishmongers from Hungerford, who plan to offer the best quality meat, fish, fruit & vegetables all under one roof.
"If you love cooking with fresh ingredients we want you to find everything here in one place," Simon Rhodes, one of the partners, told us.
"Today has been a brilliant day. Everyone has given us such a great welcome to Old Town and been so complimentary about the shop."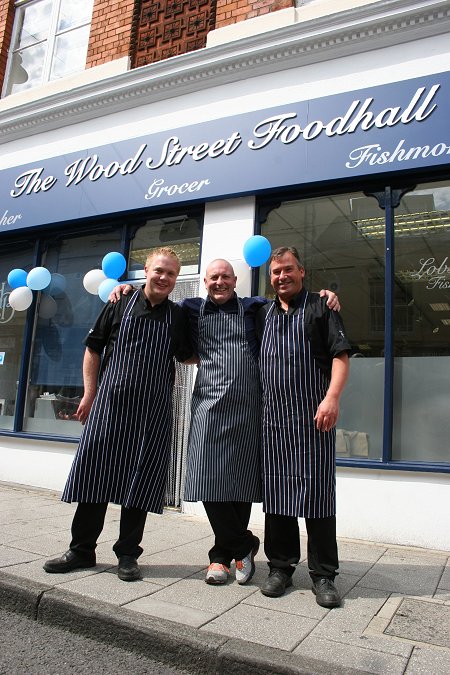 Wood Street Food Hall partners Simon Rhodes (centre), Graham Burroughs (r) & Marcus Cole (l)
Old Town shopping on the up
The Wood Street Food Hall is the second butchers to open in Old Town in the last month after Wilson's Family Butchers opened in the High Street.
Only one retail space is now available in Wood Street itself after Bang & Olufsen closed their franchise earlier this year.
Opening Day
01 August 2013
Adver Towers Shelved!
UPDATE: Apology & plans withdrawn after public outcry over Old Town development proposal - HAVE YOUR SAY

12 March 2016

A Taste of Old Town
Free oysters & bubbly go down very well at the new Wood Street Food Hall!...

14 September 2013