Date added: 03 September 2013
Swindon's Boots are Shining
Manager of Boots Opticians in The Brunel awarded the title of Practice Manager of the Year!
The manager of Boots Opticians in The Brunel, Sam Bates, has been awarded the title of Practice Manager of the Year at Boots Opticiansí annual Shine Awards.
Sam, 30, from Old Town, was nominated for the award by the opticiansí franchisees Raqia and Mohammed Hanif, who took over the business last year.
Under Samís management, the store has seen record year-on-year growth and thanks to his own experience as manager during a franchise transition period, he also helped to lead the team at the neighbouring Boots Opticians in The Brunel through their change from being a Boots owned store to becoming a franchise.
The store also supports the charity Action for Blind People and Sam has taken charge of the fundraising activities. Last year, the team raised over £750 last year from a range of activities, including a charity music night at The Victoria pub in Old Town where talented staff from Boots Opticians played.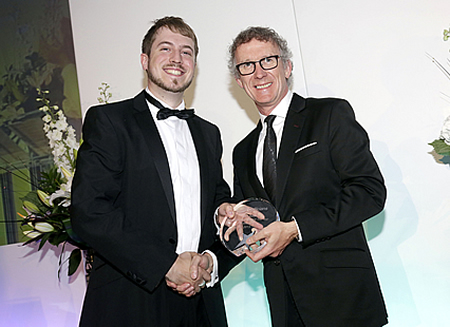 Sam (left) receiving his award
Sam received the Practice Manager of the Year award at the annual company-wide awards night held at Crewe Hall, near Chester in Cheshire.
Sam said: ďI was completely knocked sideways at winning Practice Manager of the Year and still canít believe it now.Ē
Sam was up against nominated managers from the firmís other 700 stores.
ďItís wonderful to be recognised and it certainly gives you more confidence in the job,Ē he added.

Sam began his career in the industry in 2002 as an advisor at Dolland and Aitchison. He worked his way up the ranks and became Manager at Boots Opticians in 2006, just before he got married. Sam has two children a son of 6 weeks and a daughter of 3 and half.

For more information on what's available at The Brunel Shopping Centre, please visit their website via the link below.