Fancy The American Hustle Look?
Get it here in Swindon at Carry on Vintage at The Brunel.
Lucy Gough takes a trip back to the 1970s to get up-to-date in 2014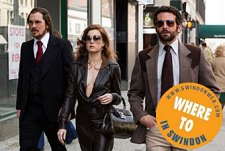 70s revival:

American Hustle
With films like The Great Gatsby and American Hustle proving extremely popular at the box office with audiences of all ages, Vintage Fashion is more sought after then ever before.

Everyone wants to have a new look for the New Year, but instead of having a new look, why not go back in time?
Whether youíre into the Glamorous 50s, Swinging 60s, Flashy 70s or the Sparkly 80s Vintage shopping is the way to go!

I love vintage clothing, but it has always been hard to get my hands on.
Shops like Topshop and Urban Outfitters create modern replicas of vintage pieces but with a slightly bigger price tag, and to find good vintage stores I have always had to travel out of Swindon to Bath, Bristol or even London but all that has changedÖ.

A wonderful shop Carry On Vintage has recently opened up in the Brunel Centre, and with racks of beautiful clothes for women and stylish clothes for men with ridiculously decent pricing, this shop is key for your 2014 look!
The best and easiest way to achieve a vintage look without having a large price is a pair of high waisted jeans.
They are great for all body shapes and are so easy to style. When shopping in Topshop to purchase a pair of high waisted jeans you are looking around £50, and of course these are just replica. However within Carry On Vintage they carry many different brands and sizes all for around £25, for this price you can even pick up a pair of Vintage Leviís!
Pair them with a blouse tucked into the jeans to highlight your waist and lengthen short legs, or keep the look completely casual and pair them with a plain t-shirt, and add a blazer to change the look from day to night.
The brilliant thing about these jeans is that you can wear them all year round, and with a price tag of only £25 you can not go wrong!
My favourite thing about this store is there are racks and rack of clothes, there is some much choice there is literally something for everyone.
These jackets here can create hundreds of looks.
Every great capsule wardrobe needs to include a great jacket, either denim, tartan, patterened, leather etc. Out of all these choices and prices from as little as £20 you can create a vintage look with a small budget!
And itís not just for the women either, there are great stands of mens clothing, including jackets, shirts, and shoes! And if youíre not an adventurous shopper but still want to add some vintage then a jacket is a great way to start off!

Itís not just clothing that this store features either. If you love the vintage look but donít fancy wearing it, then why not have it in your home. With online home sites and large department stores charging over £100 in order to buy a replica vintage piece in Carry On Vintage they have a great stand of vintage home wares, from a beautiful punch bowl, to wine glasses you can add a vintage staple to your home.
So for an easy and stylish vintage look either for yourself, your partner or even your home then head to the Brunel Centre and go straight to Carry On Vintage. With the wallet not looking good straight after christmas itís a great way to achieve a new look on a budget.
Tel: 01793 498709
American Hustle, starring Bradley Cooper, Jennifer Lawrence & Christian Bale is currently showing at a cinema near you.
For a full listing of Swindon film times click on the link below.