Going Potty For Potter!
Harry Potter fans descend on Brunel for midnight book launch
If you happened to be passing Swindon's Brunel Shopping Centre on Saturday night, you'd have been forgiven for thinking you'd stumbled upon Hogwarts itself!
An assortment of witches and wizards gathered at Waterstones for the midnight launch of Harry Potter and the Cursed Child, the latest work from author JK Rowling.
Free entertainment was provided for those queuing and local coffee specialist 222 stayed open to provide refreshments with the Butter Beer made famous by the films proving particularly popular! A Hagrid look-alike was also a hit with the crowds.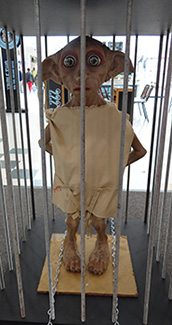 Dobby at The Brunel Centre
As well as promoting the launch of the new book, The Brunel is also raising money for good causes with its Free Dobby campaign and is asking visitors to donate socks.
Not only will your socks help Dobby regain his freedom but by putting money inside them you can also help The Brunel raise £500 for good causes.
Jane Stewart, Deputy General Manager of The Brunel Centre, came up with the idea of using the opportunity of the launch of the forthcoming new Harry Potter book to raise money for two charities. Jane said: "We really hope everyone will get involved in our "free Dobby" campaign. The funds raised will be split equally between The Brunel's adopted charity, which for this year is The Youth Adventure Trust, and Waterstones' adopted charity The Book Trust."
After the campaign, in order that donated socks do not go to waste, they will be given to Monkey World, the ape and monkey rescue centre in Dorset. Staff at the centre hide treats inside the socks to enrich feeding-time for the animals.
Espresso Yourself!
New independent coffee shop Triple Two opens in Swindon...

11 August 2016