Date added: 12 November 2007
New premises for Debenhams
Department store to anchor £200m regeneration project
Modus, the award-winning property giants in charge of the extensive Regent Place development project, have announced the relocation of the Debenhams department store.
Moving from The Parade to the heart of Regent Place, the new state-of-the-art store will have three huge floors, and is set to become a central attraction at the heart of the £200m regeneration project.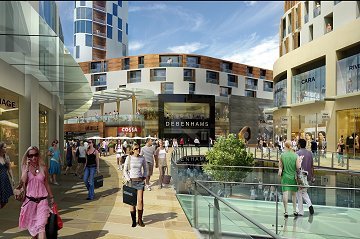 Regent Place:

how it will look in 2011
Modus' Leasing Director, Nigel Poad, said: "Signing Debenhams is a massive vote of confidence in Regent Place, placing it in the prime retail circuit."

In addition to the massive department store, there will be over 45 additional outlets and a food hall.

Plans are also in place for a new restaurant quarter, a hotel, 250 contemporary apartments and a car park with a capacity of 900.

Robert Hadfield, Debenhams Acquisitions Manager said: "We are delighted to have signed up to anchor Regent Place, which gives us the opportunity to offer the shoppers of Swindon the bright modern store they deserve."

With planning permission in place and work set to begin soon, the Regent Place development is on target for completion in 2011, bringing fantastic opportunities for people and businesses in Swindon.