Date added: 22 November 2007
Trinny and Susannah shape-up Swindon... again!
Fashion icons cause a stir with their new book
From broad-shouldered Bricks, to long-legged Lollipops, fashion experts Trinny Woodall and Susannah Constantine have seen every body shape going, and today they were back in Swindon to see how we shape up, at a signing for their new book.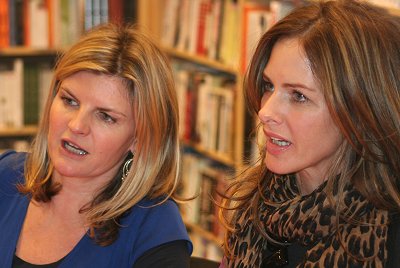 Trinny and Susannah giving Swindon ladies the once over
at their book signing session at Borders

The last time Swindon met the iconic pair was in June of this year, when they transformed the self-image of 100 size 16's during filming for their 'Undress the Nation' programme, which went live on ITV earlier this week.

But today the pair weren't trying to take anyone's clothes off.
Instead they were taking time out at Borders in the Orbital Retail Park to meet their aspiring fans and sign copies of their new venture 'The Body Shape Bible'.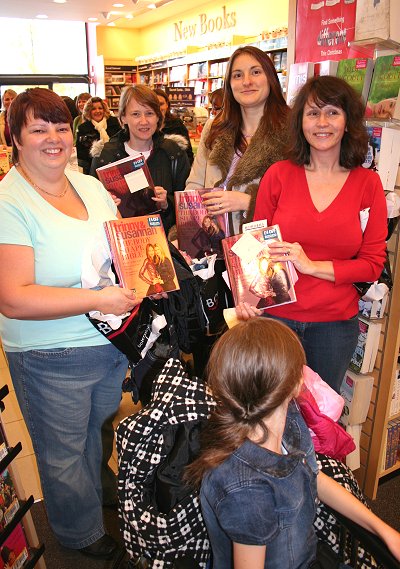 Trinny and Susannah fans eager to have their book
signed - and receive some fashion advice

With high hopes for another best-seller, the pair were enthralled to see a queue of fans running the length of the store, and out in to the street.

Corinna Mazzotta, from Swindon, said: "My husband bought me the book as a surprise for Christmas, but when I told him I was coming, he had to give me it early!

"I think Trinny and Susannah's idea about shape is great. Dieting takes so long, but now they've got this instant answer to women's body issues."

Amongst all the women, one man stood sheepishly as he queued to grab a signed copy for his wife. Wishing to stay anonymous so as not to give the surprise away, he said: "I do feel very outnumbered, but my wife swears by them – so I had to come!"

The morning was a great success for the fashionistas, as women across the town flocked to meet their fashion idols.

Susannah told us: "It's been fantastic to see how many women are really taking on our new idea. So many of us worry about our size, but this concept means that women of all shapes and sizes can feel confident in what they wear."
Mel Turner-Wright

Trinny and Susannah signing in Swindon - 22/11/2007