Date added: 19 September 2007
Rick Stein brings a taste of the Med to Swindon
SWTV interview with Rick Stein in Swindon, as he signed copies of his latest book, Mediterranean Escapes

The world-renowned chef spent over two hours at Borders, in the Orbital Shopping Park, talking to those who had waited patiently to meet him.



First in the queue being delighted grandmother Diana Casey, who attended with her daughter Kim.

"I've been a big fan of his for many years. His programmes and passion for food are fantastic," she said, "it's great to get the opportunity to meet him here in Swindon."

After signing over 300 books, Rick, who is a massive advocate of locally produced food, took time out to take a look around - and sample - from stalls laid on by various local suppliers, offering the likes of meats, organically grown vegetables, cheese, honey and other regional delicacies.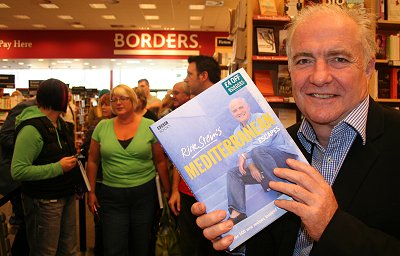 Master Chef:


Rick Stein at Borders
One of these being Vowley Farm, who specialise in quality rare breed meats, and who are already recognised by Stein as a 'Food Hero'.
Lorraine from the farm delighted the celebrity chef found her specally prepared pork burger particularly tasty.
"He loved it," she told us, "and really praised us for what we are doing."
Stein, famous for his Padstow seafood restaurant, made sure he signed every book before moving on to an appointment at the Swindon-based headquarters of WH Smiths, ensuring the huge crowds weren't left hungry for more.
His book is on sale now priced £20.00. Or you can win a signed copy via our competition below.

Wood Street Market
Arts, crafts and local food all on offer in Old Town - 1st & 3rd SUNDAY

Yard Sale
An Old Town first - 10 streets taking part - THIS SATURDAY...

19 June 2010

Trading Again
Shoppers welcomed back to the re-opened Swindon tented market...

17 October 2009

'Del Boy' in Swindon
Lovely jubbly! A look-a-like from Only Fools and Horses will officially re-open the Swindon Tented Market...

15 October 2009