Date added: 18 June 2007
Trinny and Susannah Size Up Swindon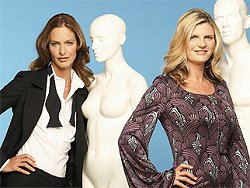 Styling Swindon:


Trinny and Susannah
Swindon was well and truly on the fashion map today - for ladies of a certain size!

Style gurus Trinny and Susannah were in town to film a show for their TV series 'Trinny and Susannah Undress' entitled 'Shape', especially focused on women who are a size 16.

The frank-talking pair spending the morning in Swindon town centre browsing the shops for suitable clothes and accessories for a group of lucky local ladies picked to appear on the programme.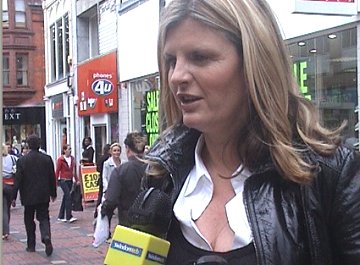 TV Trendsetters:
Susannah (talking to us, above) and
Trinny out and about in Regent St and The Parade

The Town Hall in Regent Circus their base for the day, where they successfully performed various makeovers - leaving those who took part gushing in their praise for the design-conscious duo.

"They were brilliant," said one, "really easy, simple advice. And nice too!"

"I was expecting a slating but they were really constructive. I almost feel like a new woman!"
Comments so far...

I am size 14-16 and i'm not proud of my size. before i have a baby my size was 10 so i feel horrible and i can't watch me in mirror.. and now i hate shopping.
Joanna

You may have a lot of slim people out there, but being larger is only a problem for slim people. Us large ladies like being curvy, you may be thin, but we've got the personality and that's what counts. Up with curves, Big is Best. Linda Hewer

I'm a Size 14- 16 and not proud of it, although i think its fine for others to be proud, as i'm a very self consious person.
Kirsty

That video clip is hilarious, could Susannah have been any less interested in Swindon? It's true though, the town does have more than its fair share of the larger lady.
James

My missus is a size 14 - and i love that she is curvy - i have to say though i do think the issues about weight are more so now that all these fashion shows are on - isnt there any other topic other than weight that the bbc and itv can focus on - you dont see us men complaining!
Daniel

The bigger the better, thats what i say. theres no better site than a big beautiful woman proud of her shape and size. Fwoooor!!!!!!
Lee Webb

What do Trinny and Susannah know about clothes, anyway? One's a skinny rake the other far from a size 16! Do they seriously think I've got loads of money to spend on clothes, because I know haven't and I don't think many women have really. I hate these types of programme.
Mrs V Reason

Sorry to be controversial but I think clothes look much better on the slimmer looking woman, no more than a size 10 for me!
Karen S

Slap the fat and ride the ripples! There ain't nothing attractive about loving a twig!
Anon

I'm a bit bigger than most but my husband loves me just the way I am!
Anon

I don't understand how anybody can be proud of being obese! I don't believe in any of this "big-boned" rubbish - why should I have to pay the same amount for a dress in a size ten when a size 16+ is using twice the amount of material!
Jenny

I think what ever size you are it does not matter! As long as you are happy within yourself! I think it's great though that Trin and Sue are teaching women who might not feel confident in themselves to dress in a way that will make them feel good again. As a mother of 2 - whose body shape has changed because of it - I understand how women can feel a littel insecure about themselves! so if you need another lady to be on the show girls give me a call!
Samatha Baker

I am a size 18, 20, 22, 24 depending on where i shop.. confussed, i am... I hate shopping for clothes especialy in Swindon as we have noting. If you are of the larger size ladies or teen, and walk into the likes of Top Shop or similar you get awfull looks from staff as they are twig like.. It's about time designers realised that there is more and more larger ladies that want to wear fashion and look good and MONEY to be MADE from this. We are not all the same. I for one struggle with finding underwear, at a ample size 42 to 44F again depending on where i can shop there is no choices unless you want to where big massive cross your heart style from the 50's.. In my opinion, the world has gone mad.. so come on ladies and lets fight back.. WE WANT DECENT CLOTHES AND UNDIES AT AFFORDABLE PRICES....... MORE MORE MORE let's start a petition.
Ellen Wood

Sorry to be controversial but I think clothes look much better on the slimmer looking woman, no more than a size 10 for me!
Peter Russ

I would far rather a curvy size 16 than a twiggy size zero. I like real, healthy, looking women - who would want to date an emaciated woman like Victoria Beckham!
Rob Smith

I wish I was a size 16!!!! its horrendous finding clothes for women like me who can't help being on the large side
Lisa Tyler, size 16+
Trinny & Susannah - Book Signing
Not sure what to wear this christmas season? Why not come along and meet Trinny and Susannah, who will be signing copies of their latest book, 'The Body Shape Bible'. This is sure to be a popular event so make sure you turn up early so you can get your copy!

12 November 2007