Date added: 24 April 2007
B & Q Opening
It's twice the size of Wembley Stadium and has created 250 new jobs in Swindon - it's the new B&Q Warehouse, which officially opened today.
And there to welcome customers for the first time were Olympic archer Alison Williamson and local football hero Don Rogers.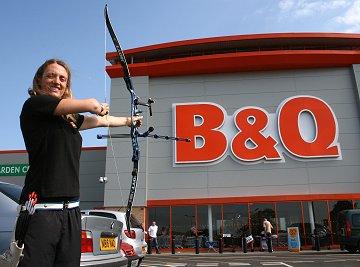 On target:


Alison Williamson officially opens the new B&Q store

"It's been an absolutely fantastic day," commented Keri Evans, B&Q's store manager, "the team here have really pulled together to make this flagship store (the DIY giant's second biggest in the world) one we can all be proud of."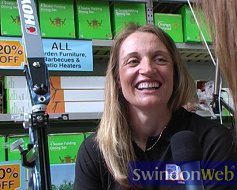 TEAM B&Q!
the official opening of the new
warehouse with an interview with Olympic
Archer Alison, who was invited as a member of Team GB, which B&Q are sponsoring at Bejing 2008 and London 2012, also took time to meet the new store staff and sign autographs.
Home and garden
Situated on the old Swindon Services site at Barnfield Road, the new warehouse also includes a 25,000 sq.ft garden centre - an addition that doubles the product range previous available at the old store in
Fleming Way, which closed on Thursday evening.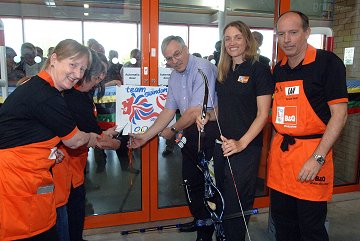 Cutting the tape:


Don Rogers, Alison Williamson and B&Q staff
Amongst them was B&Q singing star Lauretta Hilton, who gave a demonstration of the voice that was recently featured in the DIY company's TV adverts.
Her rendition of B&Q's title song 'Nobody does it Better' receiving a massive round of applause from all those enjoying the first day of trading.

B & Q Opening - 26/04/2007